Jinny
Jane Wainwright
Derby Theatre
Derby Theatre
–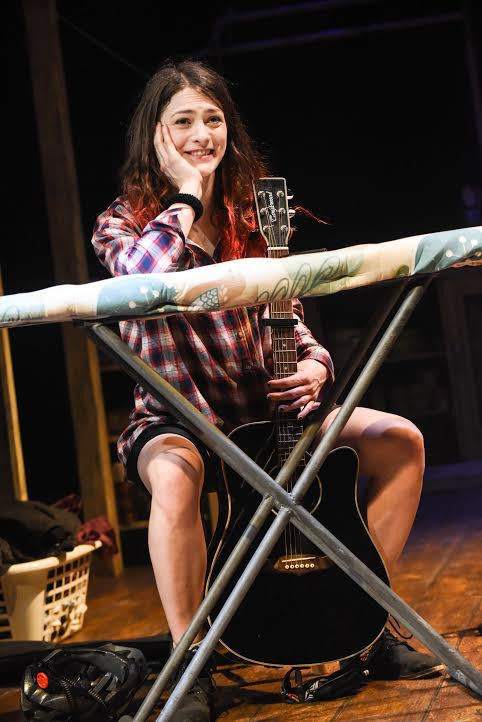 For the past couple of years, Derby Theatre has been commissioning plays for its RETOLD series, which takes a different look at classic stories from the perspective of one of its main female characters.
The latest, Jinny, which runs alongside the theatre's revival of John Osborne's Look Back in Anger, transports Jimmy Porter to 2016 Derby and turns him into a woman. The idea is to show what gets under the skin of today's angry young women.
Derbyshire playwright Jane Wainwright wrote Jinny after speaking to young women across Derby to see what challenges they face today.
Like Jimmy Porter, Jinny is the tale of a 25-year-old trying to cope with the modern world. With a degree behind her, she is resilient and outspoken—but that turns out not to be enough.
The starting point of the play is that the character Jinny is a singer-songwriter determined to make a success of her career but she is totally nervous about going to a meeting with Ellie Goulding's management. It could be her big break; it could also dash her hopes completely.
It seems strange, even in the 2016 world of The X-Factor and The Voice, that the major worry for young people is not a lack of job opportunities or the dangers of social media but making it big in the music business.
Despite that, Wainwright's script is clever, incisive and humorous. There are plenty of local references too: people become "mardy" when they don't land a job, they risk death at the notorious Spider island and there are sightings of the legendary backwards-walking man.
The one-woman play is admirably brought to life by Joanna Simpkins who held the large, main-stage, receptive audience enraptured for an hour on press night.
While Jimmy Porter can vent his frustrations against other characters, Jinny can only relate her experiences and feelings; Simpkins does this with panache and realism, showing the character has strength on the surface but beneath it has a lack of self-belief which makes her increasingly endearing.
Sarah Brigham directs with the same passion and vitality that distinguishes her revival of Look Back in Anger. Neil Irish's set for the Osborne play is again used, with a few updated props convincing you that you are in the 21st century. There are a few skilful touches, including an ironing board doubling up as a bicycle.
The success of Jinny, though, is largely due to Simpkins: she totally looks like a modern, street-wise, occasionally foul-mouthed woman. She may not get as angry as Jimmy Porter but she shows that the younger generation have just as much if not more to get upset about than their counterparts from 60 years ago.
It seemed slightly odd on press night to watch the response to Look Back in Anger before Osborne's play. But this is no excuse not to see Jinny. It is playing on selected dates and you will be angrier than Jimmy Porter if you miss either.
Reviewer: Steve Orme