Joan Littlewood: Dreams and Realities
Peter Rankin
Oberon Books
Released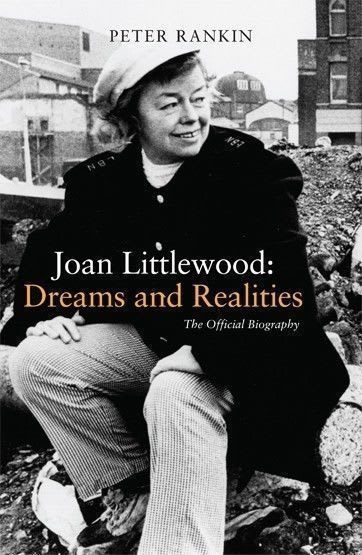 Joan Littlewood is probably one of the most contrary characters that anyone could hope to meet (or avoid).
In this large format paperback original, Peter Rankin, who was both a colleague and landlord at different times, presents an affectionate but sometimes partial portrait of the director.
It seems likely that Littlewood's difficult personality was genetic, since the mother who bore her illegitimately when aged only 17 was troubled and troublesome herself.
Early beginnings on the London breadline in the years following the Great War rarely made the little girl happy and she flew the roost at the first opportunity.
Somehow, having conceived a love of theatre, Joan Littlewood threw herself into the art form and had the good fortune to meet a series of collaborators who were equally committed and had the talents to complement her own.
First of these was a Mancunian called Jimmie Miller, whom she married when both were barely out of their teens.
They managed to set up a touring theatre company and, in doing so, sow the seeds of what would eventually become the legendary Theatre Workshop.
Sadly, the marriage was unhappy and the pair split, partly because each was seeking and had found new partners, but also as they were temperamentally unsuited.
Career-wise, their outlooks also diverged as Jimmie became increasingly interested in folk music and took on a new Scottish persona, Ewan McColl.
Thereafter, Joan's love hate relationship with Gerry Raffles created one of the most successful theatre companies of its era, competing with the Royal Court through the 1950s and '60s when the latter was publicly changing the face of drama in this country and around the world.
The major productions included classics from the Jacobean era as well as A Taste of Honey, The Quare Fellow and Oh What a Lovely War, all very much still in the repertoire today.
This is a book littered with famous names since the company helped to develop the careers of the likes of Harry H Corbett, Richard Harris, Victor Spinetti and Barbara Windsor, together with dozens of other actors well-known from TV and film across ensuing decades.
In addition, Joan and Gerry crossed paths with an incredibly diverse assortment of political personalities of the day including friendship with politician and bon viveur Tom Driberg, who these days seems to find himself mentioned more frequently in books about Cambridge spies than theatre.
Throughout its existence, Theatre Workshop and its leading figures fought against the establishment, often going without funding because of their political beliefs or unwillingness to bow to popularity or censorship.
Peter Rankin does a good job in giving readers an impression of both the strengths and weaknesses of Joan Littlewood as a person and a theatre director.
While as a woman Joan might have been difficult, she was a wizard when it came to perfecting scripts, helping actors to make the most of their abilities and bringing plays to the stage.
As a result, this volatile personality left behind a post-Brechtian theatrical legacy that still influences theatre in Britain and elsewhere today.
This book has its limitations because Peter Rankin follows his enthusiasms, for example almost completely neglecting its subject's life after she drifted away from the theatre in the wake of the early death of Raffles.
The writing style is always readable but can also be a little eccentric. However, since the author shows such clear affection and respect for an important figure to whom he got so close, Joan Littlewood: Dreams and Realities should prove popular with theatre aficionados.
Reviewer: Philip Fisher