Joan
Written and composed by Lucy J Skilbeck
Milk Presents
Oval House Theatre
–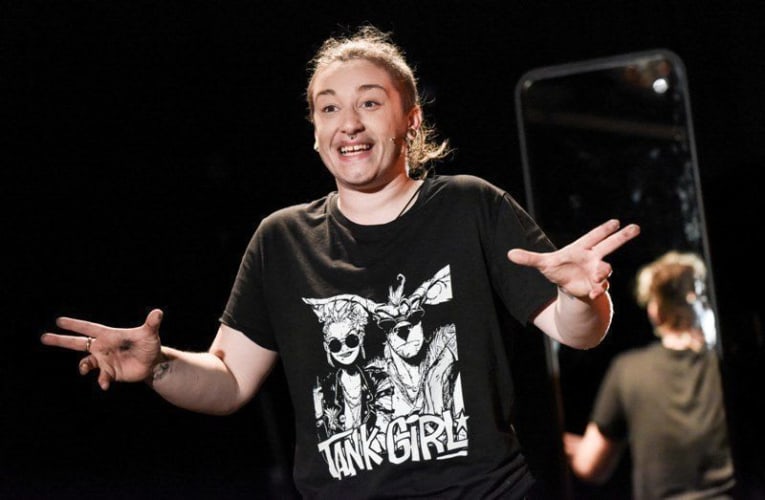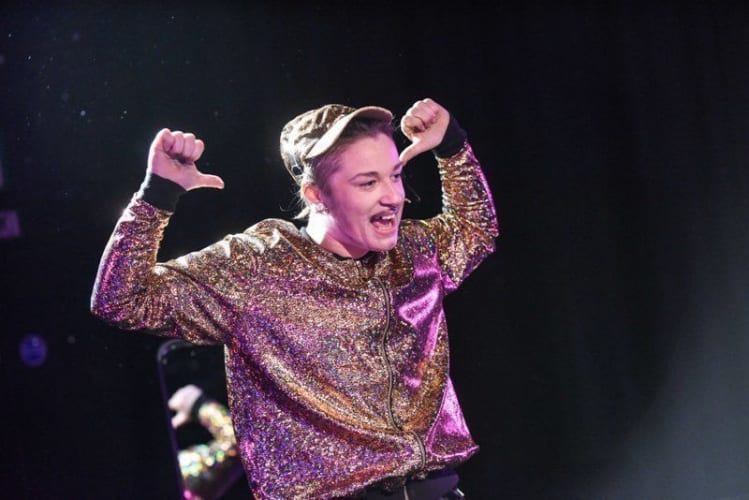 It is impossible not to be touched by this solo play whose spirit outswells the confines of its intimate cabaret-style space.
Avoiding getting bogged down in too much detail and presenting the story without the romanticised myths that surround the creation of Joan the Saint, writer Lucy J Skilbeck has made the story accessible and contemporary.
On the face of it, she tells the six-hundred-year-old account of a young woman who is killed because she put on men's clothing and adopted a man's role.
That Joan was so radical, knowingly flaunting societal norms and the strictures of the Catholic Church because she claimed to have heard holy voices (here conflated to the single voice of Saint Catherine), made her a double heretic.
But this play with songs is much more than a pleasingly delivered history lesson. Skilbeck has made this Joan a hero for our times. She is a young woman today struggling to find her identity in a gender binary world, not just vaguely in the present, but with the immediacy of right now.
When Joan is first tried and sentenced to burn to death on the pyre, at the last minute she recants to save her life, promising to dress and behave as a woman and deny her "voices".
Poignantly incongruous, the former leader of armies puts a flowery hairclip in her hair and pathetically, if comically, practices walking like a girl.
Making her relinquish her now-normal clothing takes away from her more than mere garments. Without her "voices" too, she is lonely and without contentment until she comes to terms with her "gloriously confusing" body, albeit that the realisation will put her back at the stake which is where Skilbeck chooses to end the story.
It is a strength of the work that, when Joan appeals to Saint Catherine for guidance as she rejects the deceits of living with the gender with which she was born, there is no immediate answer. It makes for a moving ending, loose ends left untied and without the distraction of the later myths and the Church's reprieving canonisation.
Performer Lucy Jane Parkinson excels as Joan. She has no doubt honed her relaxed manner and easy improvisations on the cabaret circuit where she performs as the award-winning drag king, LoUis CYfer.
As Joan, Parkinson blurs the line between play and cabaret as she looks us in the eye with honesty, smiles and coaxes us into lending her a 'phone, being a would–be lover or a horse.
With a change of jacket and a touch of make-up, Parkinson takes on the persona of the men who moulded her life from her earthy dad to the trashy velour–clad Dauphin and Pavarotti look–a–like Inquisitor Pierre Cauchon, their songs becoming comic turns.
There is no mystique as Parkinson jokes and chats to us, wiping off make-up or gluing on a beard wordlessly, saying much about gender and the nature of appearance.
It is often what is not said that makes Joan a catalyst for debate and such a powerful play, one that makes you think about whether our institutions have changed enough to not feel threatened by those with nonconformist appearances.
On leaving Oval House, Joan will tour to Lawrence Batley Theatre, The Civic Barnsley, Square Chapel Halifax, Birmingham Rep and Touchstones Rochdale. There will be another tour in the autumn.
Suitable for ages 12+. All performances are captioned using The Difference Engine via audience members' mobile 'phones or tablets.
Reviewer: Sandra Giorgetti