Joan's Book: the Autobiography of Joan Littlewood
Joan Littlewood
Methuen Drama
Released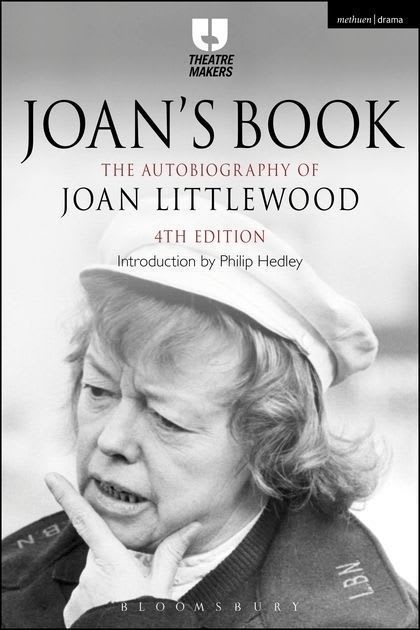 In almost every way, Joan Littlewood was 50 or more years ahead of her time. As a result, this adventurous woman's life was a constant struggle both from a personal perspective and in her work.
Joan's Book reads much more like a novel than an autobiography, often delving into byways that seem to have little relevance to the main thrust. In addition, it very much gives the author's personal view of what she experiences, which can often seem rather more partial than is normal in the story of a life.
That life was set to be tough from the moment that the future theatre director was conceived illegitimately in that fateful year 1914.
Her childhood supported by doting grandparents was relatively good in the circumstances but the teenager was only too happy to escape South London at the first opportunity for a peripatetic career in the theatre.
What one soon learns is that Joan Littlewood was a tough, determined character who could rarely be crossed but would be deeply loyal to those for whom she had respect.
Her politics were determinedly left-wing, which meant that, for the most part, she was an outsider in a society that was still class-ridden.
The book is split chronologically into three parts. The first covers childhood but then stretches to initial ambitious projects to set up a touring theatre company intended to entertain and educate the common man and woman.
One of Joan Littlewood's talents was to attract loyal colleagues who were willing to work on a shoestring and, at times, literally starve themselves in the name of art.
Her first significant alliance of this type was with artist-activist Jimmie Miller, as radical as Joan and soon to become better known as Ewan McColl, not merely for artistic reasons but also to avoid the police after wartime desertion.
They may have married but the real love of Miss Littlewood's life was Gerry Raffles, a supreme business manager but also a devoted lover and partner.
They enjoyed the kind of open relationship that became more popular in the 1960s and thrived thereafter, although there were many ups and downs both artistically and personally.
For many, the most significant section of this book will be the description of the inception of Theatre Workshop, its travels around the world and eventual happy relocation to Stratford atte Bow, now better known as Stratford East.
Some of the best-known actors of the late 20th century British TV and film cut their spurs at the theatre including the likes of Barbara Windsor, Harry H Corbett and Victor Spinetti.
Such was the company's success that, at one point, the theatre was challenging and, some might argue, beating the Royal Court as the most significant source of new writing in the country.
Amongst its most enduring productions, it could boast a series of plays by Brendan Behan, Shelagh Delaney's A Taste of Honey and the collaborative anti-war musical Oh What a Lovely War!, which embodied everything that Joan Littlewood believed in.
Throughout this hefty volume, there is a feeling that Joan Littlewood is steering readers in the directions that she wishes them to go, skipping issues that either are not of interest or should be suppressed, while elaborating at great length on others. This is particularly the case towards the end when her dream of creating Fun Palaces for the masses almost came to fruition first in Tunisia and then East London.
It goes unsaid but the book ends in 1974, just before the early death of Gerry Raffles after which Joan Littlewood largely retired from the theatre and public life.
Joan's Book is a good, long read that rarely flags and presents a rounded picture of a unique lady but also her anarchic friends and an exciting counterculture which most readers today could not imagine might have existed in the middle years of the 20th century.
Reviewer: Philip Fisher