John Lithgow: Stories by Heart
John Lithgow
American Airlines Theatre, New York
–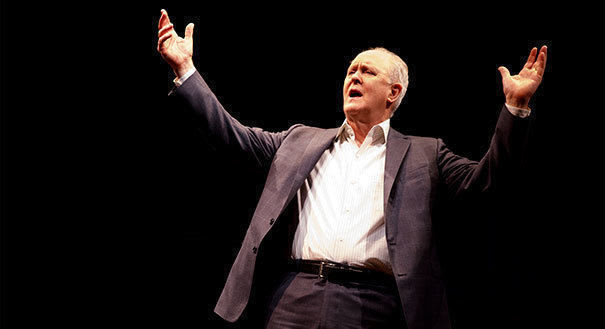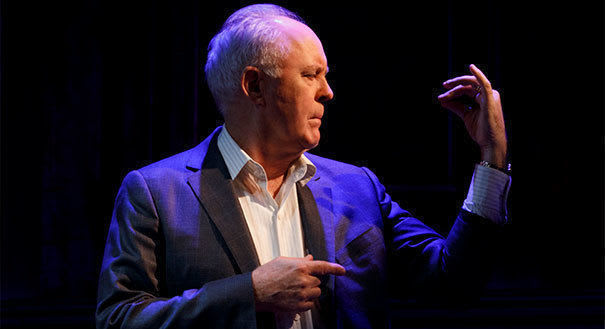 America is even more in thrall to the cult of the personality than Britain. It is hard to recall solo shows that have made it to West End stages in recent years, give or take the occasional Simon Callow rendition of A Christmas Carol. Even stars declaiming Shakespeare, which did the trick 50 and more years ago, would not inspire today's hard-nosed producers, let alone their audiences.
On Broadway, there is still demand for a chance to see TV and film's finest in the flesh and John Lithgow clearly has this kind of appeal. In addition to a long and distinguished stage career, the multi-award winner is probably best known globally for Third Rock from the Sun and a stream of movies including Terms of Endearment, Blow Out and< em>Shrek. Presumably, much to the irritation of our own character actors of a similar ilk, he has also recently been seen playing Winston Churchill in The Crown.
Stories by Heart, which has been doing the rounds for a decade and is now presented by Roundabout, is both very personal and universal. Lithgow frames two short stories that were included in a volume published in 1939, which almost became a family bible, with two poignant excerpts drawn from his own history.
These bring back to the stage his father, Arthur Lithgow, an actor-manager of the old school who plied his trade presenting the Shakespearean canon at theatre festivals in Ohio when his four children were growing up.
He also read to the youngsters from Tellers of Tales, a book edited by W Somerset Maugham and filled with the 100 best short stories written by the year that the Second World War broke out.
In a wood-panelled room complete with comfortable armchair, John Lithgow paints a vivid picture of "The Old Man" and a wife who acted as well, disguising from the children the many times when bankruptcy threatened a family supported by a notoriously uncertain profession.
One of those stories was Haircut by Ring Lardner, a tense little drama related by a barber, which gets very as it progresses towards a conclusion at the interval. This is a fine opportunity for actors to witness one of their best on top form, his physical work, which may owe much to director Daniel Sullivan, shaving and cutting hair entrancing but never getting in the way of a tale on which Americans of that generation were all raised.
The second story has double resonance since it was a family favourite in childhood but then became the equivalent to chicken soup, resurrecting the octogenarian Lithgows after a major health scare 15 years ago.
They say that laughter is the best medicine and P G Wodehouse is better than many doctors, as evidenced by Uncle Fred Flits By, his tale of Pongo and Uncle Fred, Lord Ickenham scamming the snobbish with relish.
John Lithgow delivers a masterclass, while providing a worthy memorial to his parents in a quiet show that does exactly what his fans will expect. Quite how much of an impression it will make on those sitting at the back of the auditorium may be open to question but, in close-up, it is a unique opportunity to commune with an institution.
Reviewer: Philip Fisher