John
Lloyd Newson
DV8
Lyttelton, National Theatre
–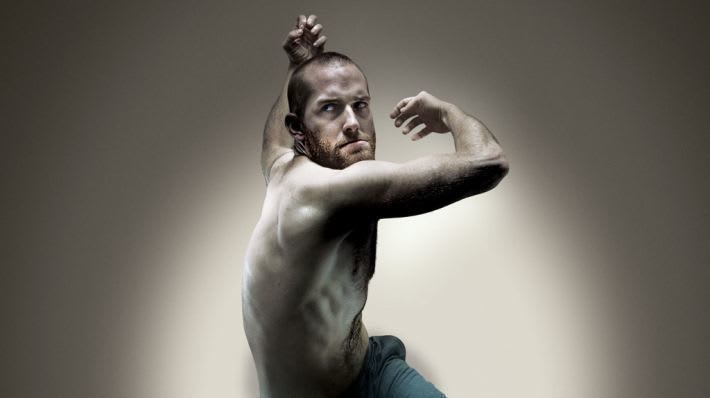 Lloyd Newson and DV8 are renowned for their brand of physical theatre, which borders on dance. With John, they have tapped into and quite possibly created the new, and it has to be said somewhat unlikely, genre of Verbatim Physical (or Dance) Theatre.
On a constantly spinning revolve, an 80-minute performance unfolds throughout which the words are based on over 50 interviews. The most significant and substantial of these is with Hannes Langolf as John, the ultimate representative of society's hidden culture of down and out addicts.
This ill-fated Geordie (judging by the accent) seems to have had a genetic tendency towards every bad experience in the book.
Before achieving teenage status, he had already witnessed, amongst other things, rape, abuse, violence, abortions, incest, imprisonment, shoplifting and that was just within the close family before he and one of numerous brothers was rescued by the state.
By adulthood, he was a parent but also an obese drunkard and junkie who had seen most of his siblings succumb to early death. Prison was almost a welcome break from his self-destructive tendencies, which included a spectacular case of arson.
All of this is related in a matter-of-fact fashion, almost as if John had eventually become a dispassionate tele-journalist.
Somehow, just when you thing it can't get worse, it does, for example with tales of homelessness and the short, unhappy lives of those with whom he shares hostels.
This is all pretty grim (and dizzying as the performers and revolve are never still) but some relief is offered in the form of DV8's magical brand of physical theatre. This is often low-key but can be witty and at times moving (in every sense).
Having tuned into the sad story of a man who somehow overcomes every disaster to recover and belatedly begin to live and thrive having obtained an Open University degree, the evening takes an odd turn into what feels like a completely different show.
Suddenly, Newson and his cast leave John far behind to enter a gay fantasia compèred by the proprietors of a men-only sauna where the underlying intentions are barely hidden by the swiftly discarded small towels.
Now, we (and occasionally John) trip through a world of casual sex, discovering a serious message as the pursuit of casual sex transforms into a debate about HIV and AIDS and the mysteries of why seemingly intelligent men will risk their lives for the brief thrill of unprotected dalliance.
John is groundbreaking in its combination of art forms but might have been better presented as two separate shows divided by an interval to allow both spectators and actor-dancers to get second wind.
Ultimately, its main attraction for the average theatregoer is likely to lie in the performance and John's story, while the gay community will probably take more away from the sauna scenes.
John is part of the Travelex £15 project with almost half of all seats available at that price. In addition, it can be seen across the country and overseas on 9 December as part of NT Live.
Reviewer: Philip Fisher