Jonny and the Baptists: Eat the Poor
Jonny and the Baptists
Supporting Wall
Roundabout @ Summerhall
–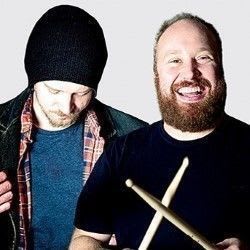 With a new Government in place, perhaps it is time for agitprop to make a comeback.
If it does, the fearless Jonny and the Baptists are likely to be in the vanguard. Their hatred of privilege and those who take advantage of it seeps through every lyric and comment throughout an hour-long set that combines song and comedy.
The band comprises Jonny (Donahoe of Every Brilliant Thing fame) and Paddy who always seem to be having a wail of a time, almost inevitably taking the audience along on their joyride.
Your enjoyment of this show might well depend on political inclination. Jonny and Paddy would be surprised if readers of the Telegraph / Mail were fans, while even trendy lefties might find their messages a wee bit uncomfortable.
By way of contrast, those who find society today unpalatable will lap up the cynicism and desire for greater equality.
The evening opens with a couple of cracking songs, about swans and Brexit, before we head into sci-fi land as Jonny imagines life partnering Lord Lloyd Webber and Jerry Hall, respectively in business and matrimony.
Paddy sadly ends up on the streets, so that by 2046, the pair are as divided as rich and poor can be, with the suggestion that revolution may not be far off.
The high (or low) point is a familiar song commemorating the loss of the late Lady Thatcher and, in passing, the Princess of Wales.
If that sounds to you as if it might be tasteless in unsympathetic hands, stay clear. However, if irony bolsters your mental bank balance, kill for a ticket.
Reviewer: Philip Fisher