Jonny & The Baptists: The Best of 2012-2017
Jonny & The Baptists
Fourth Wall
Roundabout @ Summerhall
–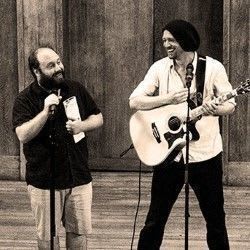 If you vote UKIP or believe that Teresa May is a left-wing sell-out, this is a 1* show that should be banned.
However, for those whose political views are further to the left or can be suspended in the presence of startling wit and political satire attached to folk rock rhythms played live will have a whale of a time with this selection of Jonny and Paddy's finest tunes and coolest patter.
The evening opens on a hilarious high, with a song explaining that "Only the Queen can Kill Donald Trump" and Her Majesty continues into a song about her swans and their revolutionary tendencies.
A response to Jonny's Dad and his lack of enthusiasm for the show is another gem, though its referencing of the Daily Mail may not find favour with that paper's readers, not really this team's target market, it would appear.
In the remainder of the hour, targets include homophobes, UKIP supporters, including former leader Paul Nuttall and many pillars of the establishment.
If you are in the right state of mind and inebriation, this lively show combining music and comedy is a real Edinburgh highlight.
Reviewer: Philip Fisher