Joseph and the Amazing Technicolor Dreamcoat
Lyrics by Tim Rice, music by Andrew Lloyd Webber
Adelphi Theatre
(2007)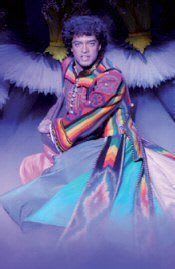 The Adelphi is fast becoming the home of the Rice/Lloyd Webber back catalogue. Following in the footsteps of Michael Grandage's sensational revival of Evita though, this new TV-fuelled Joseph is rather pedestrian.
The title role is taken by Lee Mead, a bit part player turned household name before he has done anything, as winner of the BBC's reality show Any Dream Will Do. Mead has none of the charisma or stage presence of that other musical winner, Connie Fisher, which might well restrict the appeal of what should otherwise be the popular reappearance of a true family show (despite the ill-judged insertion of an Egyptian orgy).
The opening nights were not helped by a breaking revolve and what sounded like vocal problems for the two leads which suggest that their understudies might be busy.
This, however, is a show that does what it says on the packet. The 7 year olds surrounding this reviewer were in raptures throughout, as were many more who are equally young at heart. The appeal is obvious, bearing in mind that the musical was written, in a much shorter version, by and for children when neither Sir Tim nor Lord LW had left school, let alone met the Queen to be garlanded with impressive titles.
The basic story harks back to the dim and distant past when much of theatre was based on biblical themes. A Narrator, played by a winning Preeya Kalidas, tells her Sunday School class, now a thirty-strong, colour-coded, children's chorus, the story of Joseph.
This probably takes up about half of the two-hour running time and with suitable exposition and low-key razzmatazz introduces us to a vain boy who likes showing off. The last straw for his eleven brothers is when he is given an LSD dream of a coat that is a credit to its designer and would win any fashion award.
The boys steal the coat and intend to bury their annoying brother, much to the anguish of their old father, Stephen Tate's doting Jacob. They even sell the boy to a pair of hairy Ishmaelites, complete with singing camel.
The design by Mark Thompson had been pretty bland and only takes off when we arrive in Egypt at the palace of Elvis Presley - yes honestly! He is also Pharaoh and Dean Collinson wins a lot of fans emulating The King.
At this point, with psychedelia taking over, the plot is pretty much forgotten as it dissolves into a lengthy variety show featuring musical genres from reggae to cowpoke, Maurice Chevalier to hoe-down but very much not the now-familiar Andrew Lloyd Webber.
Having filled in time, the feast and famine of the bible lead to a tearful reconciliation for this large family and a brilliant quarter hour of encore that shows off Anthony Van Laast's choreography at its unadulterated best.
The show lives on its corny comedy, Tim Rice's easy rhymes and a really strong score featuring memorable songs such as Any Dream Will Do and Jacob and Sons which melts into Joseph's Coat (of Many Colours).
Those wanting a sophisticated evening at the theatre should stay well clear. Anyone wanting a good night (or afternoon) with the family and a TV star to boot will absolutely lap up this production, which is dedicated to the late Steven Pimlott, the multi-talented director who originally brought it to the stage.
Reviewer: Philip Fisher