Joseph and the Amazing Technicolor Dreamcoat
Lyrics by Tim Rice, music by Andrew Lloyd Webber
Bill Kenwright by special arrangement with the Really Useful Group
Opera House, Manchester, and touring
(2011)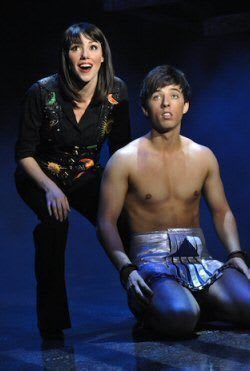 During a summer in which Manchester has born witness to rain of biblical proportions, it seems strangely apposite that another well-known story from the book of Genesis should visit this northern city.
While a musical about Noah and his ark wouldn't seem particularly out of place in the drizzle-drenched North West, last night Joseph and his coat of many colours brightened up an audience for whom Tim Rice and Andrew Lloyd Webber could do no wrong.
What started as a short piece for a school concert has, decades later, never really shrugged off the feeling of a college production - and perhaps its enduring popularity with generations of school children and amateur dramatic societies is testament to this. But, judging by the latest rendition of the 43-year-old show, this is no bad thing.
With its unforgettable lyrics, ever-so-slightly naughty moments and joyful exuberance, it is really, really hard to dislike Joseph and his technicolor dreamcoat. Yes, some of the sets are a mite wobbly, Jennifer Potts as the narrator is a bit squeaky and Adam Jarrell as the hip-swivelling Pharaoh is a tad mumbly. But the 11 double-crossing brothers are the perfect motley crew and the plethora of musical styles knits together perfectly.
And what of Joseph? Played by the runner-up in the BBC show Any Dream Will Do, Keith Jack suffers from lack of name recognition. Previous occupants of the role - among them Jason Donovan, Phillip Schofield and former Boyzone star Stephen Gately - came to the role with their fan bases assured or their singing credentials in little doubt. While Jack gets behind the big numbers, last night he risked being drowned out by a cacophony of rustling sweet wrappers on the quieter notes. A musical which has been performed many times over and has barely changed in four decades demands a little bit of star quality.
Despite these gripes, Joseph and the Amazing Technicolor Dreamcoat is peppered with marvellous moments. Some, including one dancer's sliding split along the floor, made the eyes water while the inflatable sheep provided a simple yet effective comedy moment. And let's be frank: twenty years after this reviewer taped it off the radio, the Joseph Megamix still rocks.
"Joseph and the Amazing Technicolor Dreamcoat" runs until 21st August, 2011 at the Opera House, then touring
Robin Strapp reviewed this production in Swindon
Reviewer: Helen Nugent