Josephine and I
Cush Jumbo
Bush Theatre
–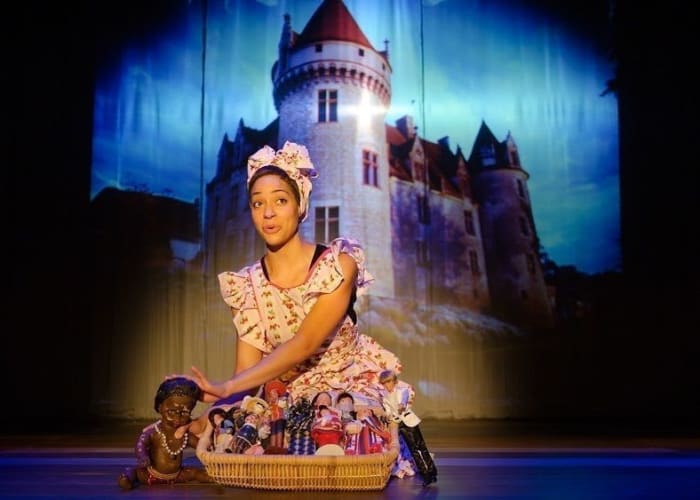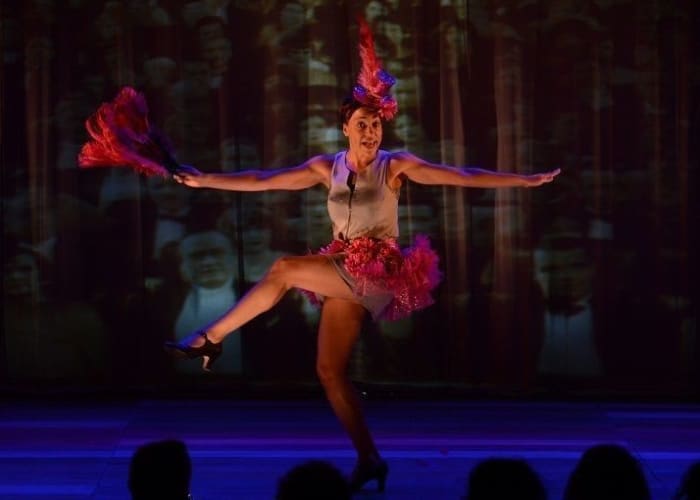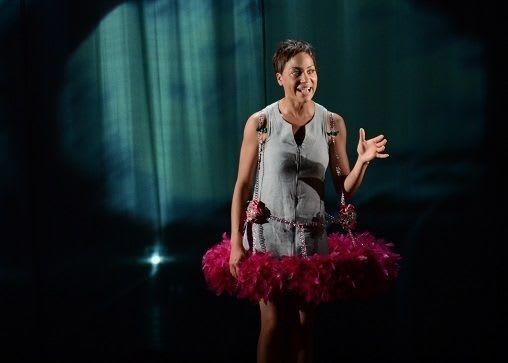 If ever a show was a labour of love, Josephine and I is. That love is needed even more when Cush Jumbo, who conceived, wrote and performs the play, finds herself on stage wearing glamorous frocks and, at one point, fur in what must be 30/80 degrees of an unanticipated London heatwave.
One would guess that the actress will live with this, having created an opportunity to share her baby with the world. The good news is that she has borne a bonny, bouncing toddler that will surely be much-loved.
After an initial hiccup, the audience, sitting around tables in cabaret style, finds itself thrust into a dual story.
In London 2013, they learn much of the life of actress Cush Jumbo, most recently seen (in London) playing Julius Caesar at the Donmar. It becomes apparent that we should be relishing her presence, since the actress is poised to earn millions in an American TV series following a seventh call-back, unless she takes a different life path.
Close to a century earlier, a little girl known as Tumpy had a very different upbringing in hateful and hated St Louis as part of a broken, troubled family from which she escaped by marrying the first of four husbands aged only 13. Following a still birth, she was divorced by 14 but within a couple of years, applying her watchword, "persistence", the intrepid teen progresses steadily from street performance to the local Colored Theater and thence to Broadway.
By the age of 19, the little lady has crossed the Pond, landing in Paris where she loves not only the money and adulation but also a freedom that people of her race could not enjoy back home.
At this tender age, in addition to performing thrice nightly, she already owned a nightclub, Chez Josephine, and was the talk of the town. In fact, the woman who had taken her second husband's name during another brief marriage to emerge as the legendary Josephine Baker had become a confidante of Colette and Hemingway, as well as the most photographed woman in the world.
Rather than ploughing on regardless and filling her bank account, this admirable ex-good time girl became an ambassador and activist, demanding that where she went, any colour bar be lifted.
The duality of the evening works but can be a little artificial. Goodness knows how much of the Cush Jumbo story is invented rather than drawn from life. It does though gently entertain and counterpoint the more primitive story of her heroine.
This is delivered with energy and passion in enervating conditions. Even those that tire of the stories will have a great time because the actress-turned-playwright is just as much of a triple threat as the inspiration for whom she is a dead ringer. Not only is she a fine actress but the versatile performer dances a treat and sings attractively, peaking with her final passionate effort, the completely unexpected Bob Dylan classic, "The Times They Are a-Changin'".
This is particularly poignant because, by her final tour, the dying Josephine was 69, penniless, deserted and supporting twelve adopted children from around the world.
Solo shows can be predictable but, with the assistance of director, Phyllida Lloyd, Cush Jumbo fills 100 minutes very satisfyingly and, best of all, educates her audience about a star who could soon be forgotten but is well worth remembering.
Reviewer: Philip Fisher