Journal of the Plague Year
Max Stafford-Clark
Nick Hern Books
Released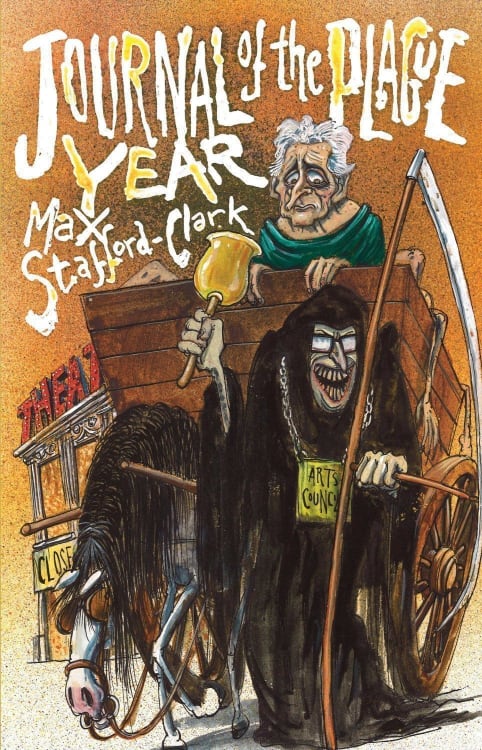 Max Stafford-Clark has borrowed the title of his latest volume from Daniel Defoe but the text of Journal of the Plague Year reads far more like an unpublished work by Franz Kafka.
There are untold books detailing a year in the life of actors, directors, playwrights and, quite probably, dressers and set builders.
Apart from the quality of the writing, what makes this one different is that Max Stafford-Clark's Plague Year, 2012/13, was blighted not by some innocent little fatal virus but the far more predatory Arts Council England.
The book opens as our guide discovers that his legendary theatre company, Out Of Joint, was to lose 20% of its total funding, having already suffered cuts in earlier years.
The consequences are both horrifying and startling, as documented in commentary and a series of letters exchanged between representatives of Out Of Joint and their pseudonymous "relationship manager" at ACE, an organisation that lives and dies by the acronym.
Before covering the war, it is worth praising the author for his courage in writing about an overly exciting personal history in a series of lengthy asides.
Somewhat unusually, Max Stafford-Clark had two fathers, Max and David, and their intertwined lives prove fascinating.
Later on, we get snippets of autobiography covering the years at the Traverse, the Royal Court, with Joint Stock and then Out Of Joint.
This builds to the momentous and savage year of 2006 when a quadruple dose of strokes suffered simultaneously would have killed any normal man.
Max Stafford-Clark not only managed to overcome the Grim Reaper but also six years of the ravages of ACE, equally deadly but arguably less congenial.
The correspondence is deeply depressing, as an optimistic theatre director is beaten down again and again by a man who knows how to say "no". They are not even shamed by the knowledge that Stafford-Clark and his associate Graham Cowley reached into their own pockets for desperately needed money, nor data derived using the Freedom of Information Act proving that ACE was happy to fritter cash away on a publicity stunt.
Unfortunately, despite the cheery nature of Max Stafford-Clark, Journal of the Plague Year is a pretty depressing book.
It shows a company with wonderful ideas and inspiration prevented from carrying on its trade due to lack of funds and, arguably even worse, forced to scrabble around for the few hundred pounds in a demeaning fashion meaning that its genius of an artistic director was prevented from doing what he does best.
It would be lovely to feel that in a couple of years' time this author will be writing another book about a period packed with new productions, all of which are successful both artistically and financially. However, it is more likely that a bedroom farce by Kafka will be discovered than such a book will get written in the current political and economic climate.
Reviewer: Philip Fisher