Journey's End
R.C.Sherriff
Duke of York's Theatre
(2011)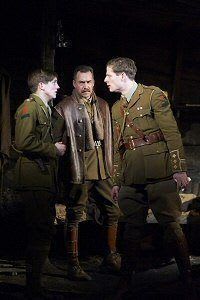 The centenary of the opening shots of The Great War is now only three years away. As such, the war to end all wars which signally failed to do so is way beyond living memory.
If we are to avoid repetitions of the carnage that left so many millions of young men in unmarked graves, regular reminders are required.
David Grindley's epically moving revival of R.C.Sherriff's classic drama Journey's End has deservedly been playing in London and/or touring almost continuously since it opened seven years ago.
It is perfectly pitched and while viewers will leave the theatre stunned, they will remember and that is the point of this production. In a single evening, more will have been done to prevent future wars than any number of protest marches.
Any politician who sees Journey's End must surely think twice before sending the boys into yet another war zone where lives will inevitably be sacrificed for a cause that will cease to matter almost instantaneously, if it ever did.
The key to this particular play's success over the generations is the way in which it typifies the millions by depicting the few.
The drama is played out in a cramped, wood-lined trench near Ypres, designed by Jonathan Fensom and occupied by relatively lucky officers. If this is their idea of luxury, goodness knows what the cannon fodder went through.
For three years, the dugout has been the home of Captain Stanhope, a seasoned officer at the age when, had he lived today, the handsome fellow would not even have graduated from university.
James Norton's character has the reputation of a hard drinker but, as his wise deputy Osborne observes, who can blame him after the horrors that he has lived through?
The excellent Dominic Mafham's "Uncle", as the older man is known, is equally courageous. A rugger international and schoolteacher, he philosophises in the knowledge that his time will soon be up. When a ludicrous mission is announced, that becomes a racing certainty.
Our view of events is shared with new arrival Raleigh, an 18-year-old fresh from school. Graham Butler performs well as the youngster who doesn't really get it.
Presumably primed by Boy's Own Paper or an equivalent, he worships Stanhope with whom he was at school and sees the War as an extension of his time in the First XV.
For around 2¾ hours, we follow the fortunes of this trio, knowing in our bones that the law of averages suggests that their chances of survival are negligible.
In the early scenes though, things are eerily calm, with dry humour the norm, especially from the over-sized Christian Patterson as Trotter. Tony Turner playing Mason, the cook is also good value, a kind of distant cousin of Baldrick with similar cooking skills, unless you like indeterminate meat products and tea that tastes of onion.
This is the calm before a terrifying storm that may not be seen but is effected using a soundscape that literally shakes the theatre, as well as a cowering audience.
Grindley leaves us with a moving memorial and poignant last post, which will ensure that Journey's End lives long in the memory. There may be lighter fare on offer in the West End but little that is more worthwhile.
Visit our sponsor 1st 4 London Theatre to book tickets for Journey's End
Reviewer: Philip Fisher