Joy Ride: Lives of the Theatricals
John Lahr
Bloomsbury
Released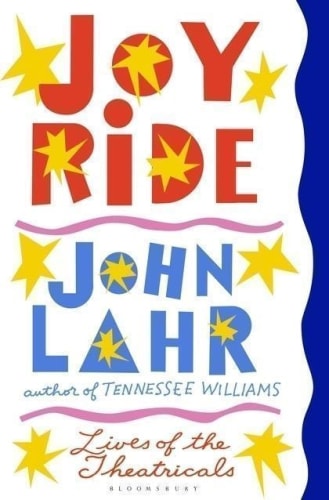 Having suggested that Michael Billington's The 101 Greatest Plays would take some beating as the best theatre book of 2015, Joy Ride came along.
On balance, perhaps Billington just wins the race but it is pretty much a dead heat and either of these books would have taken the crown in most years.
The author has a wonderful history, having grown up as son to Bert Lahr, The Cowardly Lion opposite Judy Garland in The Wizard of Oz on the silver screen, at one point he acted as Literary Manager at the Lincoln Center and has subsequently spent 21 years as the senior drama critic of The New Yorker.
That publication is a throwback to the good old days when readers were believed to have sufficient concentration to deal with long, in-depth articles.
Forget about tweeting, Lahr is at his best when given 30 to 50 pages with which to conjure detailed portraits of his subjects.
This book presents a series of those articles, which fall into a number of categories.
The first section provides profiles of playwrights, starting with two of the greats of the last century, Arthur Miller and August Wilson.
Like everyone featured in this book, they receive exemplary mini-biographies based on interviews not only with the writers themselves but also those around them, supplemented by substantial research.
Other writers including Harold Pinter, Tony Kushner and William Shakespeare get the treatment too.
In almost every case, the profiles are then followed by reviews of one or two key productions. Once again, these are literary pleasures, though sometimes they repeat data presented in the foregoing biographical pages.
Following the writers, a handful of directors are also profiled with Mike Nichols getting a particularly affectionate and insightful chapter, while Ingmar Bergman comes across as a deeply unhappy and forbidding character.
Finally, there is a section of reviews, covering significant plays during the author's New Yorker tenure.
Anybody who loves theatre will enjoy sharing the experiences and views of the ultimate American theatre lover, John Lahr, in a big, weighty book that is highly recommended and will give many hours of enjoyment.
Reviewer: Philip Fisher