Don Juan in Soho
Patrick Marber, after Molière
Donmar Warehouse
(2006)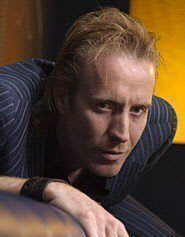 Don Juan, along with his Italian successor Casanova, was the man who turned womanising into a sport and, with the assistance of a succession of writers, an art form.
Michael Grandage, whose record as artistic director of the Donmar is second to none, has adventurously chosen to pair two of the finest and wittiest writers of their respective periods in this sparkling new version of an old but popular tale.
Three and a half centuries may separate them but there is a shared love of words and comic sensibility between Molière and Patrick Marber, which ensures that the language and comedy of this vibrant view of Soho today is rarely less than entrancing.
Patrick Marber may be most famous for the theatrical and film versions of Closer but Donmar devotees will never forget the venue's pitch perfect and achingly powerful production of After Miss Julie starring Kelly Reilly, now becoming a big film star.
In the same year, 2003, Welsh actor, Rhys Ifans took over an anarchic production of Dario Fo's Accidental Death of an Anarchist. In rather calmer mode now, he stars as louche DJ, variously described as "the Kofi Annan of copulation" and "Satan in a suit from Savile Row".
He is the well-spoken son of an earl, well played by the ever-reliable David Ryall, who spends the whole of his unprincipled life trying to quiten an "itch", that has required satisfaction by three women every day for 20 years. To be accurate, that is not quite true as there was a three-month break in 1998 when syphilis intervened.
This outrageous womaniser was lucky enough to be born rich and therefore can afford to feed his passions and hunt down his prey around the globe. In this, he receives invaluable assistance from his manservant cum pimp and keeper of the Blackberry, Stan. This fresh-faced young man is the latest in a long line of family retainers, played with the just the right mixture of frustration, energy and obsequiousness by Stephen Wight.
As the play opens, the libertine Don Juan is heading for a fall, having married Laura Pyper's Catholic Irish peace worker, Elvira, because that was the only way that he could bed her.
We join him on the day that he returns from his highly sexed (three women a day) honeymoon to a less than rapturous welcome from his wife's violently angry brothers, Colm and "vicious" Aloysius (Richard Flood and Chris Corrigan).
Complications build further after our hero is unknowingly seduced by a beauty about to enjoy her engagement party on a Thames cruiser. He thinks nothing of hiring a motorboat and sinking the partygoers in his efforts to notch up yet another conquest.
This leads to the play's most hilarious scene, as the Don is pleasured by his rescuer's comically loud girlfriend, raucously but convincingly played by it Seroca Davis, while at the same attempting to seduce the would-be bride, despite the fact that her affianced is in a coma next door.
By this stage, violence and death, the latter predicted by a moving statue looking rather like the French playwright, are not too far off, but in such a single-minded hedonist, pleasure overrides every other consideration.
Having limited social commentary to a minimum, Marber chooses this moment to allow Ifans to rail against the hypocrisy of a society that fetishises TV chefs and gardeners, while at the same time attacking a class system that still exists in this country.
This racy modern version of a classic is extremely funny and, with its constant alliteration and verbal fireworks, should delight audiences who love the work of any of its major contributors, Patrick Marber, Michael Grandage, Rhys Ifans and, last but very much not least, Molière - or who just want a good night out.
Reviewer: Philip Fisher