Jude
Howard Brenton
Hampstead Theatre
–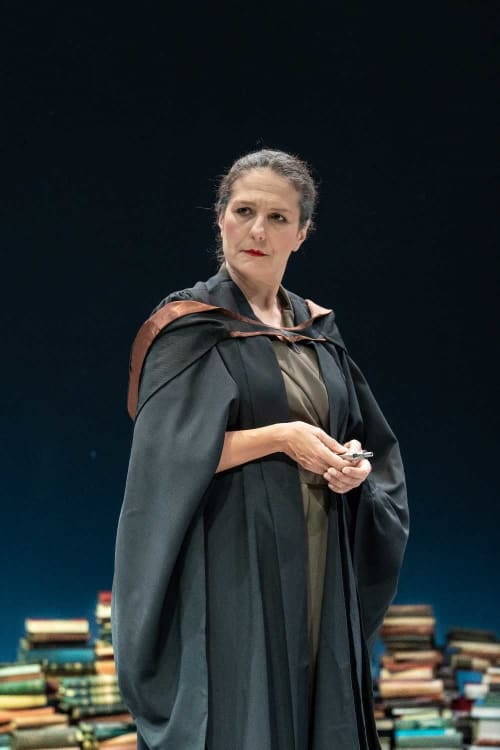 The original idea underlying this modern drama inspired by Thomas Hardy's Jude the Obscure must have hinted at a sparkling play about contemporary issues.
Howard Brenton has created a modern Jude who is a Syrian Christian orphan driven out of her own country at the age of 12. Given sanctuary but not necessarily citizenship in Waterlooville Hampshire, the bold, flighty young woman, now in her later teens, earns her keep as a cleaner.
The character played by Isabella Nefar has hidden talents as a classicist, having become fluent in Latin and Greek by reading stolen books, while having strong opinions about classical literature.
The girl's life and education take a turn for the better when she has the good fortune to start cleaning for Emily Taaffe's Sally, an MA student who teaches at the local college on the side. Fortuitously for both young women, Sally lands a teaching role at Oxford's Christminster (sic) College.
By this point, viewers will have learned that Jude is a complex character to say the very least. To complicate her status as an indisputable genius, this young woman is moody, alcoholic and mixes in unlikely company.
Her common-law husband and father of their child, Luke MacGregor as Jack, earns his keep as a black-market butcher. Cousin Mark is a fanatic, madly following one religion after another. Merch Husey's character even briefly persuades the authorities that he could be a dangerous jihadist. At the other end of the scale, Jude finds a new mentor in Deirdre, played by Caroline Loncq, who is given to mood swings, affairs with female students and a desire to fill quotas.
As if all of this wasn't enough, Jude is also a fantasist who enjoys long conversations with Euripides, not one of Jack's pigs but the long-dead classical playwright and progenitor of Medea.
There are far more plot twists in a play that can mirror the character's novel suffix, being rather more obscure than anybody can originally have intended, with confusing timelines and plotlines that jump around almost a random.
Edward Hall directs a cast who struggle for fluency, quite possibly as the result of a text that has the feel of a work subject to multiple, last-minute alterations. There are many good ideas spanning topics including immigration policy, feminism and class discrimination in the contemporary world, but the connections between them are strained and few strands get satisfactorily tied up
Reviewer: Philip Fisher