Judgment Day
Ödön von Horváth, in a new version by Christopher Hampton
Almeida Theatre
(2009)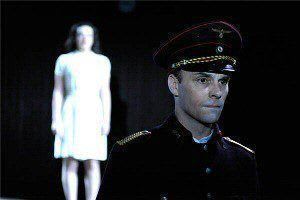 Christopher Hampton has long been the champion of Ödön von Horváth, a German-based, Austro-Hungarian playwright killed in a tragic accident the year before the Second World War started.
Judgment Day is a psychological thriller that addresses persecution and public fickleness, which may be the reason for its creation rather than the relatively unadventurous plot.
Joseph Millson plays Thomas Hudetz, a stationmaster with matinee hero good looks, based in a sleepy little town that might be located on either side of the Czech-German border. He is perfection personified in his bearing and professional performance. If there is a weakness, it is connected to a shrewish wife 13 years his senior, played by Suzanne Burden.
The rights and wrongs are unclear but his susceptibility to temptation forms the play's core. In a moment of madness, Hudetz succumbs to a kiss from the publican's engaged daughter and enters his own personal tragedy. Laura Donnelly portrays Anna as an innocent in whose mouth butter, it seems, would not melt.
The kiss is fatal - literally, since 18 people died because of it when the stationmaster forgot to change a vital signal. The accident is nicely staged on Miriam Buether's effective, underlit design, which centres on a revolving catwalk, possibly symbolising the lack of escape for the play's protagonist.
The investigation leads to double perjury and guilt. It also makes Frau Hudetz a target for, after she condemns her husband, in a prescient parody of what was to happen under the Nazis, because they dislike her manner the whole community eagerly take the chance to attack the poor lady and her meek vacillating brother, David Annen's Alfons.
The second half of the play sees the central pair of Hudetz and Anna suffering when they discover that, though the law might accept lies, their consciences will not, especially as others suffer for their crimes.
James Macdonald's production is atmospheric and there are allegorical messages to be mined but even though Joseph Millson is on top form, Judgement Day feels slight, much more the stuff of an easily forgotten short story than a novel or epic drama.
Playing until 17 October
Reviewer: Philip Fisher