Jules Verne's Extraordinary Voyages: Journey to the Centre of the Earth
Jules Verne, adapted by Harry Benjamin
Not Cricket Productions
C nova
–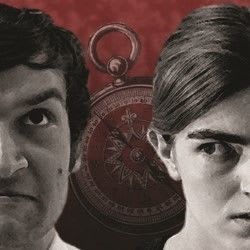 The first part of a Jules Verne Trilogy from Not Cricket Productions sets a very high bar.
A young company of five actors under the direction of Harry Benjamin condenses Verne's classic adventure story in to under an hour but catches the spirit and excitement perfectly.
Using stylish period costumes and inventive physical performance techniques, they transport the audience back to 1863 and a journey that starts in Hamburg and progresses a very long way, lives and limbs regularly at risk.
The story is narrated by Elizabeth Cooke's 19-year-old Axelle, grounded niece to eccentric geologist and explorer Professor Lidenbrock played by Joel Bates.
After discovering a runic manuscript from Iceland, the pair set off with a trusty guide in search of the Centre of the Earth.
By the end of the hour, visitors will have been amused, impressed and educated, which is no mean combination and promises much from the other two adaptations.
Reviewer: Philip Fisher