Julie: The Musical
Abey Bradbury
Abey Bradbury
53two, Manchester
–

Listing details and ticket info...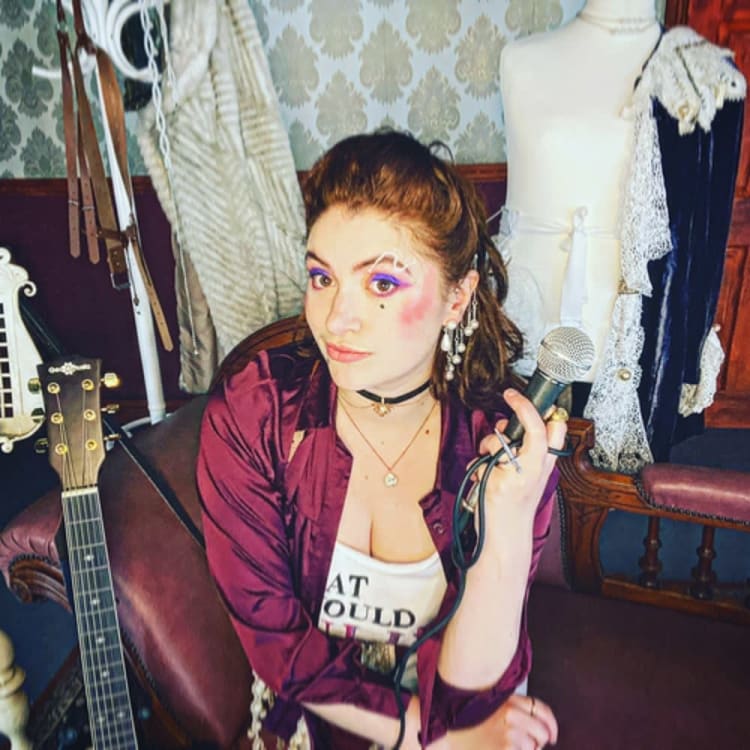 Abey Bradbury's new production is described as a musical. However, the raucous, intoxicating celebration of the life of Julie d'Aubigny might be better categorised as a party.
Julie: The Musical is based on the life of 17th-century opera singer Julie d'Aubigny, who is the subject of many scandalous rumours. Author Abey Bradbury (who takes the title role in the musical) gleefully concentrates on the most salacious—sexualised at an early age, bisexual seducer of nuns and notorious duellist (sentenced to death for that offence on more than one occasion). Bradbury challenges the audience to identify the single item in the musical she acknowledges to be false. Yes, it is a musical and a quiz.
The tone of the production is rough-and-ready 'Let's do the show right here'. The set replicates a backstage area with costumes hung here and there to be grabbed by the cast when taking a role. It has an authentically ramshackle vibe, so much so that on opening night it falls apart during the first number.
Director Mary Barrett-Doyle stages the show in concert format. The five-member cast all play live instruments. Although the songs serve as conversation between the characters as is usual in musicals, they are just as often sung monologue style direct to the audience as in a concert. The half-finished costumes—silky tops and shorts / knickers—are sweetly suggestive.
The humour is decidedly bawdy with every possible sexual innuendo explored. "Get out your sword. No, your actual sword". You can guess how the names Dido and Aeneas are mispronounced. Bradbury opts for discretion on one detail; a kazoo-driven celebration of Julie losing her virginity at thirteen is abandoned mid-verse as being not really that funny. The episodic nature of the musical—jumping back and forth from one incident to another—is used skilfully to suggest the delirious, hedonistic atmosphere in which Julie lived.
The 'anything goes' tone of the production runs the risk of self-indulgence; although a fine cast avoid such temptation, at times it is a near thing. Scene-stealer extraordinaire Connor Simkins serves some thick but delicious ham. Sam Kearney-Edwardes channels Boris Johnson in full 'what-oh' mode for Julie's roguish seducer / protector. Grant Cartwright brings a sinister predatory air to Julie's rival Thevenard, while Sophie Coward provides a range of delightfully eccentric characters who have the misfortune to get caught up in the chaos created by Julie.
Abey Bradbury takes the title role and also serves as narrator, reassuring the audience the show will move on from opera to the sex scenes whenever possible. Bradbury, while celebrating d'Aubigny, does not conceal her darker aspects—a willingness to drop people once they have served their purpose and a growing arrogance. The gentle, ballad-driven, rather sweet conclusion seems out of character for such a boisterous show, but then Bradbury did say a single detail was false and Julie deserves a happy ending.
Julie: The Musical is a high-quality show; it is easy to imagine, with a few more songs and an interval, it could make the jump from Fringe to (broadminded) mainstream.
Reviewer: David Cunningham