Juliet & Romeo
Choreography by Mats Ek, music by Pyotr Ilyitch Tchaikovsky
Royal Swedish Ballet
Sadler's Wells
–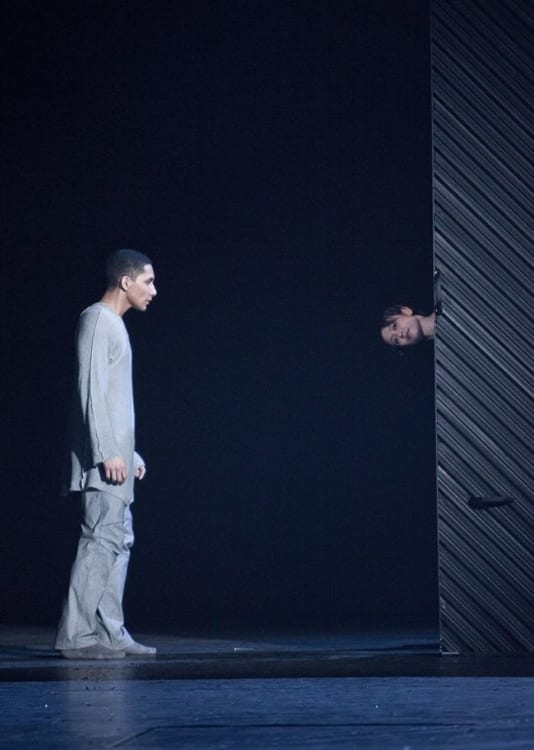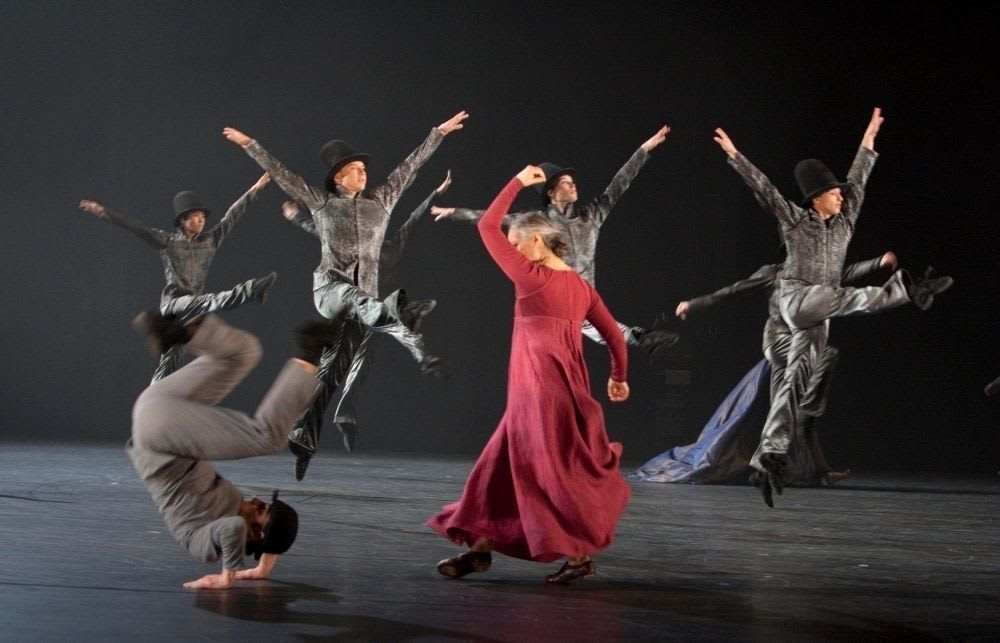 Part of The Northern Light Season at Sadler's Wells—and Linus Fellbom's smoky lighting is distinctly dank and northern—Mats Ek's Juliet & Romeo brings you Verona set in what seems to me a brooding, modern mixed with period, Elsinore court.
Black corrugated wall panels that shift and slide, climbing walls that become dark alleyways with corners for drunken men to piss in, and shed-like castle keeps.
Tybalt's men patrol on Segways, courtiers wear Pharrell Williams / Vivienne Westwood tall hats, court ladies lift their skirts to show their undergarments (Pina Bausch influence?), crowd scenes a bit West Side Story, and Tchaikovsky provides the cinematic score.
Oh, and Peter (Jörgen Stövind) is a Fool-like character in bowler hat who runs through the mayhem carrying a police car blue light in his hand, as Juliet's Nurse rides her Segway (obviously a Capulet thing) in yellow crash helmet—very fetching on Ana Laguna (Mats Ek's wife and muse)—Romeo her pillion rider.
Not your regular Prokofiev Romeo and Juliet version, played around with, or even subverted, then, but an inverted original (if you say someone is original in Russian it means eccentric—I wonder if it's the same in Swedish) to a Tchaikovsky mix selected by choreographer Mats Ek, adapted and arranged by Anders Högstedt, which makes me think of Ken Russell's 1970 overheated film, The Music Lovers.
Have fun picking that apart. The music carries the chill of the court and the passion of the young lovers with its Russian folk and regal melody flavours, its rousing chords, swooning lyricism, delicacy and drama.
Juliet (Mariko Kida) is a child playing hide-and-seek under her Nurse's skirt when presented with a fairly innocuous floppy-haired Paris (Oscar Salomonsson). And Romeo (Anthony Lomuljo) seems a solitary boy, an add-on to the homoerotic fist-bumping master and slave duo of Mercutio and puffa-jacketed downbeat small of stature Benvolio (Hokuto Kodama).
Now Mercutio, he is something—the reason for seeing this production is his antic disposition. In sleek black leather trousers and black hooded top, tall long-legged shaven-headed bad boy Jérôme Marchand, middle finger to the world, is the Black Swan and gets the best choreography.
He even gets to drag up in black tutu over leather threads and to show off his torso tattoos at the ball. How can Juliet's modest yellow tutu compete with that, though Magdalena Åberg's Renaissance-hued shantung silk / taffeta sweeping capes worn by Rosaline (Daria Ivanova) and the ladies of the court are dazzlingly beautiful?
And how Tybalt (Dawid Kapunski) gets the better of this Mercutio is impossible to fathom it happens so swiftly, but I suppose size isn't everything. Malice is. We see that in the world today, mentioning no names, might is right. Tybalt takes his time urinating on the body.
What chance do the young lovers have? No friar to help them, no sleeping potion. Only a small trap door that serves as private place and grave—an Ophelia grave.
The end is not pretty: legs sticking up from this shallow grave, a hasty burial. Townsfolk enter, their bodies rolling across the stage. They end up on their backs, a forest of legs, dead flies all. Bodies litter the stage—it is Elsinore.
The Prince (Jan-Erik Wikström) also makes his entrances rolling across the floor, and then seems to skate on thin ice. The Nurse walks a fine line, a balancing act, and reprises her youth with a group of young men. She, too, rolls out from under a low garage door—the portcullis?
What does all this rolling and quirky play signify? Juliet glides across the balcony and slides down its side like an automated doll, and when her mother (Marie Lindqvist) grieves for Tybalt, her husband (Arsen Mehrabyan) consoles her with the sole of his foot…
Mats Ek's new full-length Juliet & Romeo for the Royal Swedish Ballet opened in May 2013 as part of Royal Swedish Ballet's 240-year celebrations that year, and there it had a good reception.
How it will be received here I'm not sure—listening to mutterings on the night, mixed, I'd think—but I found it refreshing, enigmatic, confounding, with too little made of Juliet and Romeo—the interest lay elsewhere.
For me their deliberately gawky, gauche moves, their impassive faces, did not spell youthful passion. Each is in an escapist world of her/his own, fleeing the confining brutal feral urban landscape no doubt.
A thought-provoking production: the world is not a pretty place. Ugliness has to be confronted, and Ek says that he finds beauty in the grotesque.
Delighted to see The Royal Swedish Ballet (the world's fourth oldest ballet company) performing in London for the first time since 1995. It brings thirty-two of its dancers.
Johannes Öhman, a member of the company since 1988, Artistic Director since autumn 2011, must be thanked for commissioning Mats Ek to choreograph a challenging contemporary ballet—no pointe shoes, only two tutus, and dark Scandinavian wit.
The Northern Light Season continues till 14 November with Margrét Sara Guðjónsdóttir's Variations on Closer; Maija Hirvanen's For those who have time; zero visibility corp's ...it's only a rehearsal; and Cullberg Ballet's Plateau Effect still to come.
Reviewer: Vera Liber