Julius Caesar
William Shakespeare
Royal Shakespeare Company / Illuminations Media
Released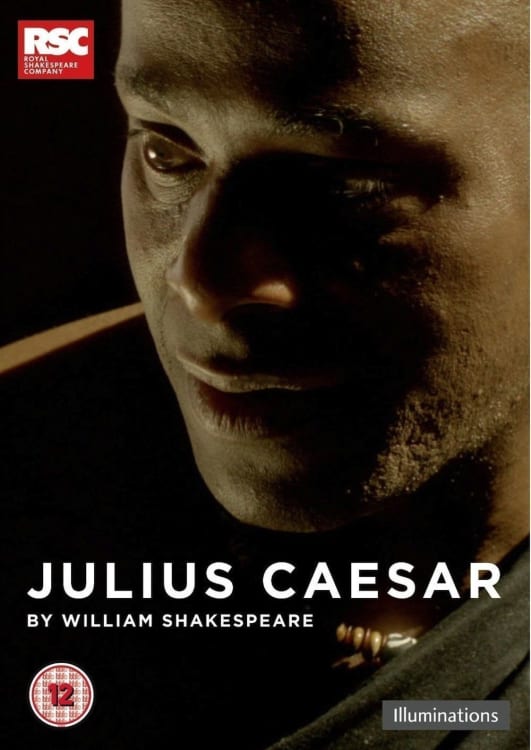 It does seem strange that Julius Caesar is one of Shakespeare's most famous plays but that the chance to see it on stage doesn't come along very often.
That is until last year, when two leading British theatre companies reimagined the play in very different ways: Phyllida Lloyd's all-female Donmar Warehouse production set in a tough women's prison, and Gregory Doran's all-black version for the Royal Shakespeare Company set in a modern fictional East African dictatorship.
The latter was created simultaneously for the stage and the small screen and broadcast as part of the BBC's Shakespeare Unlocked season. However this was not simply a filmed theatre performance; RSC artistic-director-in-waiting Doran set the main public scenes at the beginning, after Caesar's death and at the end on the stage set familiar to those who saw the production live.
The rest was filmed in an abandoned shopping centre, with various locations representing the characters' homes and the decaying corridors of corrupt power where whispered conspiracies give birth to murder and civil war.
The concept has already been discussed in our reviews of the stage production; the plot fits perfectly the location and even the modern setting, while Shakespeare's verse seems like it was written for the East African speech rhythms when it is spoken this well. Theatre rehearsal periods, pretty much unknown in film or TV, have brought a naturalness to speech, action and character that is rare for Shakespeare in any medium.
Of course the camera close-up brings greater intimacy than was possible in the large theatres that this production played in at Stratford, London and on tour, but the actors change gear very smoothly to make this seem the correct way to speak the lines. Paterson Joseph (Brutus) says in The Making of Julius Caesar, included as an extra on the DVD, "Shakespeare is great roared; Shakespeare is sublime when it's just spoken". And he speaks it sublimely, as do the rest of this wonderful cast.
The film, therefore, is more than just a useful record of a great stage production or a consolation prize for those not lucky enough to see it live. It works as a standalone piece allied very closely to the stage version that can be enjoyed by itself.
The 40-minute documentary has everything you would expect from a standard DVD extra, but the discussions of the play, the characters and the production process with the director, producer, designer and actors also make this very useful for students of Shakespeare and possibly also of interest to film students.
It is more expensive than a big studio DVD new release, but it deserves a place in any Shakespeare enthusiast's collection and may even win over a few of the Bard's "floating voters".
Reviewer: David Chadderton