Julius Caesar
William Shakespeare
Royal Shakespeare Company
Noël Coward Theatre
–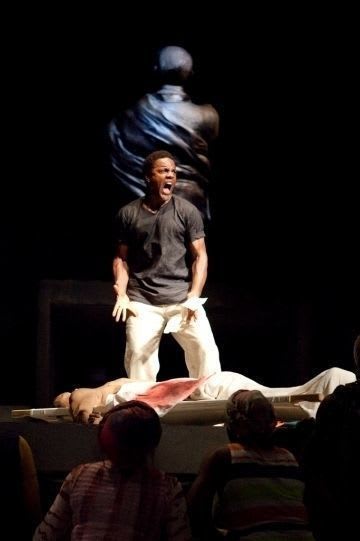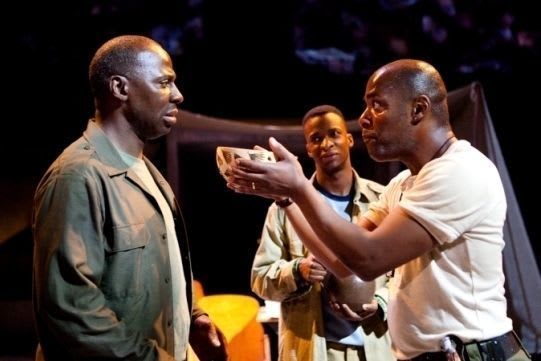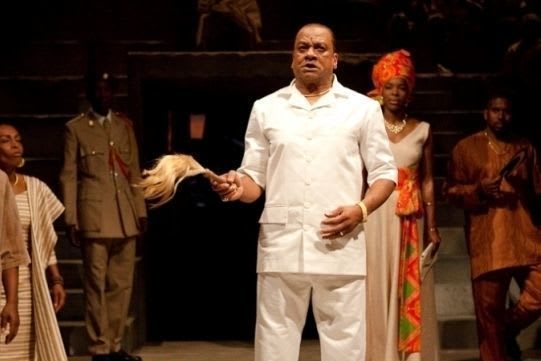 The RSC now seems determined to present Shakespeare exclusively in modern dress and quite often adorned with a concept. Greg Doran's vision for Julius Caesar sounds gimmicky but turns out to be a revelation.
By setting the play in a tinpot Africa dictatorship today, complete with atmospheric song and dance, the director suggests that the Bard was prescient, understanding four centuries ahead of time the political skulduggery that has characterised so many countries on that continent for a generation and probably much more.
While, as part of Michael Vale's set, he is represented by a gigantic statue facing away from the audience atop symbolically crumbling steps, Jeffery Kissoon's Caesar is a weak, dismissive man concerned about image and protecting his fragile hold on power.
He is right to worry, even before the witch doctor (!) warns him of the dangers that await in mid-March.
The kind of country that sees constant regime change as the norm is inevitably packed with would-be plotters led by a polar pair of brothers.
Paterson Joseph makes Brutus a thoughtful man slow to anger but able to get his own way by power of personality. His brother, Cyril Nri as lean and hungry Cassius is a firebrand who acts violently instead of thinking.
They form a faction that conspires to unseat the Emperor, in the belief that they can carry the people into a new (African) Rome.
After the bloody deed is done, Brutus speaks well but is soon done down by the Brando-like power of Ray Fearon who turns Mark Antony into a body-builder with oratorical power to match his physical prowess.
What starts as a verbal contest soon turns into civil war, Antony's force a typical martial government-sponsored army and Brutus's kitted out like guerrillas. The ending is inevitable but nevertheless touching.
Greg Doran has created a wholly convincing and compelling play that benefits from African accents, which somehow sound as if the poetry had been written for them, particularly in the two soliloquies delivered over the corpse but also Cassius's moment in the limelight, urging Brutus on to action.
The main players all deliver but the real surprise comes in the form of Simon Manyonda as Lucius. Many will have forgotten that Brutus even had a boyish servant but this sleepy comedian becomes one of the evening's stars with a hilarious example of sustained Shakespearean clowning.
If anyone thinks that director-led Shakespeare has had its day, go and see Julius Caesar, as it will almost certainly lead to a reassessment of that view.
Reviewer: Philip Fisher