Jumpers for Goalposts
Tom Wells
Hull Truck, Watford Palace and Paine's Plough
Bush Theatre
–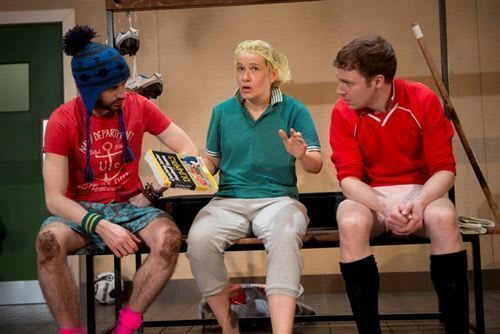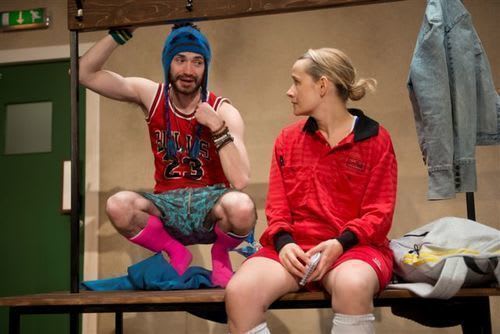 As the newly announced UK City of Culture 2017, Hull must now rise to the challenge in theatre as much as every other art form.
For many years, John Godber and his Hull Truck Company seemingly represented the city alone in this medium. In more recent times, Richard Bean has stepped into the fray and now Tom Wells looks set to join in the celebrations.
This co-production between Hull Truck, Watford Palace and Paine's Plough is directed by James Grieve and, at times, gives the impression of comprising two very contrasting pieces bolted somewhat roughly together.
On one level, there is a light sporting comedy that might easily be regarded as following in the footsteps of Godber, although the shape of the ball is different from that in rugby league classic, Up 'n' Under.
At the same time, Wells has written a tender, gay, coming-of-age drama that is supplemented by relationship problems suffered by every member of an unbelievably inept five aside soccer team.
The play follows the fortunes of Barely Athletic through the six weeks of a season in the Hull Gay and Lesbian Football League, competing with the likes of Lesbian Rovers and Tranny United. The hopeless quintet go from bad to worse with only a few brief crumbs of hope buoying them up along the way.
However, despite providing a metaphor for the personal entanglements, the football injects little beyond a dressing room set and some rather hackneyed jokes.
Where Jumpers for Goalposts really scores is in its tender treatment of the burgeoning love between the sensitive Jamie Samuel as Danny, an ineffectual trainee coach and squirmingly shy, teenaged Luke, played by the highly promising Phillip Duguid-McQuillan.
The shyness and inability to express feelings will be familiar to all, whatever their sexual preferences, while a hidden secret and the consequences of its revelation could well have viewers struggling to stop tears from flowing.
Compared to this pairing, the remaining players are lightweights. Andy Rush plays the hopelessly randy Beardy, a penniless busker with little ambition or direction but a good heart.
Vivienne Gibbs is Viv, the team's aggressive coach, covering her own private sadness which is shared with the one straight man (in every sense), Matt Sutton as Joe.
While some of the footballing comedy lacks originality, the central love story is genuinely touching and the behaviour of those that encircle it helps to shed light on a series of important contemporary issues.
The result is an intriguing 100 minutes of high-quality drama.
Reviewer: Philip Fisher