Jumpy
April De Angelis
Royal Court Theatre Downstairs
(2011)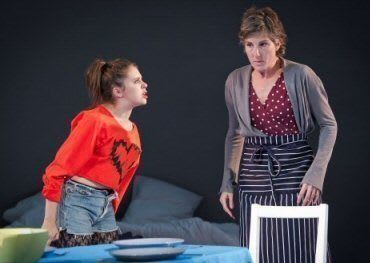 April De Angelis has really hit the bull's-eye with this achingly believable but painfully funny portrait of a woman undergoing a midlife crisis, which quickly becomes an exposé of the joys and woes of parenthood today.
TV favourite Tamsin Greig plays 50-year-old Hilary, who fights her way through a period that involves constant arguments with both husband Mark (Ewan Stewart) and their 15 going on 25-year-old firebrand of a daughter, Bel Powley as Tilly.
As if home life in Walthamstow wasn't bad enough, Hillary also faces redundancy, while malleable Mark's job seems equally likely to disappear.
This could easily have been the material for a tedious soap opera but with the assistance of her director Nina Raine, Miss De Angelis makes the situations realistic. In addition, every one of her main characters seems drawn directly from life, suggesting that much of the subject matter may be at least loosely based on personal experience.
Tamsin Greig gives a nicely nuanced performance playing a character who becomes all things to all men. Hilary is by nature a touch neurotic and the menopause hardly helps. This leaves her arguing with Mark, fending off Richard Lintern's Roland both before and after his marriage dissolves and, in one of those porn movie dreams, seducing (or being seduced by) a daughter's friend well under half her age.
She doesn't have much more luck with women, despite the playwright's feminist leanings. Attempts to befriend Tilly consistently end in the familial equivalent to nuclear warfare. Her hilariously sexy, single friend Frances (Doon Mackichan) presents an alternative way of living but not one that would ever suit our buttoned-up heroine, excelling in a burlesque dance that manages to be intoxicating, while simultaneously lampooning its genre.
The best of the drama though results from Tilly's swallow dive into the deep end of teen sex. This generates natural parental angst, long before the fear of pregnancy and its consequences is exacerbated by the experience of Tilly's friend Lyndsey. This introduces us to a series of awkward meetings with the boyfriend Josh's parents and in particular the unforgettable Bea, frostily played by the always impeccable Sarah Woodward.
Tamsin Greg is on top form and receives great support from the whole cast, with Doon Mackichan offering a lovely cameo. However, even in such august company, Bel Powley shines with her magical portrayal of a sulky but highly intelligent teenager who is struggling to come to terms with the transition from childhood to womanly allure and sophistication.
Centring on a troubled family, Jumpy has much in common with Nina Raine's own most recent play, Tribes, and offers a delightful but thought-provoking 2¼ hours that should present viewers with much that they recognise, whether they identify more closely with the difficulties suffered by the teenagers or their parents.
Don't miss out on a piece of new writing that should certainly sell out its run at the Royal Court and might even have what it takes for a successful West End transfer.
Playing until 19 November
Reviewer: Philip Fisher