Kát'a Kabanová
Leoš Janácek
Metropolitan Opera House
New York
(2005)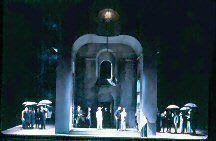 A visit to the Met is a special experience, greatly enhanced by a strong production with an excellent central performance.
The modern building, part of the Lincoln Center complex, welcomes guests with bright lights and two striking murals by Maurice Chagall. The large auditorium has six tiers topped by wonderful modern chandeliers. A visit is a special occasion.
One bonus that other houses may consider copying is Met Titles. LCD displays are in the seat (or even standing places) in front and can be turned on, if desired. With an opera in Czech, they prove extremely popular.
Kát'a Kabanová is based on Alexander Ostrovsky's play The Storm. The heroine Katya has close links with her literary sisters, Anna Karenina and Emma Bovary, ladies who tragically fall for the wrong man.
This production, originally conceived by English director Jonathan Miller, is very appropriate for an American opera house, with its look and lighting seemingly modelled on the paintings of Edward Hopper.
The plot is simple enough. Katya is married to mother's boy Tichon, played by Chris Merritt. And what a mother he has! Kabanicha, the imposing Judith Forst, is a real harridan. This is the mother-in-law from hell that every woman must dread.
Along comes handsome Jorma Silvasti's Boris and it is mutual love at first sight. Instantly, Katya knows and accepts that she is doomed. A few moments of heavenly love will be followed by distress for all and an inevitable early death, nicely staged as she walks into a wet oblivion.
This affair is paralleled by a happier one between Katya's sister-in-law Varvara, played by Magdalena Kožená, and Raymond Very's Kudrájaš.
Robert Israel's design ensures that this simple production looks good and the drama builds well, although the decision to break up an opera that would have been under two hours, with a lengthy interval before the final act, might have been reconsidered.
The music constantly evokes a coming storm, erupting with pathetic fallacy as the action reaches its climax. The Czech feel is ensured by the presence of guest conductor, Jirí Belohlávek, the Prague Philharmonia's founder and current Music Director.
The singing and acting are generally good but Finnish soprano Karita Mattila demonstrates true star quality, holding the attention throughout, singing beautifully and acting rather better than might normally be expected from an opera singer.
Reviewer: Philip Fisher