Kafka's Monkey
Franz Kafka, adapted by Colin Teevan
Young Vic, Maria Studio
(2009)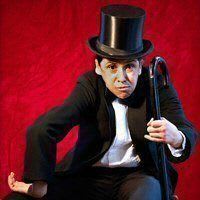 When Franz Kafka wrote his short story, A Report to an Academy, it probably didn't for a moment occur to him that anybody would try to adapt it for the stage.
The creative team of Colin Teevan, Walter Meierjohann and Kathryn Hunter have done precisely that. In staging it, they have collectively pulled out all of the stops but, even so, the story does not have much to offer this medium.
Our protagonist, dressed in bowler hat and tailcoat, treats the motley bunch (including on the night after opening, one of England's greatest ever cricket captains) fitted into the Young Vic's Maria Studio as a distinguished audience of academics gathered to hear him talk about his unlikely life.
This started on the Gold Coast as an ape and has culminated in five years as a carefully trained human being, who nevertheless struggles against regression to his former state.
Kathryn Hunter, like Tinarie van Wyk Loots as Miranda in The Tempest which opened on the same night, moves with a suitably simian gait. Indeed, at one point she even picks a couple of juicy fleas from the hair of a man in the front row for a quick snack.
The story starts with capture by hunters, continues through a cramped spell on board a ship and leads into training in the finer points of humanisation. The course of instruction is efficacious and also eventually reveals the contents of the bottle from which the man-ape swigs. This is not a heartening medicine but that old sailor's favourite, rum.
The underlying metaphor is intended to suggest that there is far less difference between those of us that left apedom a few generations back and a more recent conscript than we might like to think.
Kathryn Hunter is a fine actress who extremely effectively uses her face and double-jointed body to hold the attention as her character inhabits a twilight world between two well-defined states. Even so, A Report to an Academy would probably have been better left on the page.
Playing until 9 April
Reviewer: Philip Fisher