Karoo Moose - No Fathers
Lara Foot
The Baxter Theatre Centre at the University of Cape Town
Assembly George Square Studios
–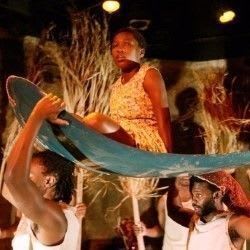 Attending a performance of Karoo Moose—No Fathers is like transportation to the South African veldt for 80 intoxicating minutes.
The portrait of ordinary people that you witness there is red in tooth and claw, almost literally.
The "story sent by the gods on a gust of wind and bolt of lightning" is related in poetic language (English and Xhosa). It centres on the family of Jonas, a good-for-nothing drunkard who gambles away what he should value most.
This involves his brave 15-year-old daughter, Thozama, played by Chuma Sopotela. She looks after younger siblings, fights the eponymous moose, which escapes from a lorry while travelling to a zoo, and is victim of a horrific rape, mirroring another affecting the white police officer, who tries to help.
As significant as the story is, the presentation by a talented, enthusiastic six-strong ensemble, which features traditional storytelling, music, song and dance, always driving the tale forward to a climax that has almost mythical qualities.
Once again, writer/director Lara Foot has hit the jackpot with an unforgettable show that mixes humour with tragedy, metaphor and harsh realism to tremendous effect.
Reviewer: Philip Fisher