Keeping Mum
Judith Bryan
Produced by Darren Batten
Brockley Jack Studio Theatre
(2011)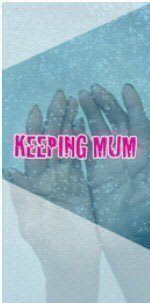 The Write Now 2 Festival at the Brockley Jack Studio Theatre ends this week with the last of three new plays by writers associated with south London.
Keeping Mum may be the first play by former social worker, Judith Bryan, but she is no stranger to writing. Both her fiction and non-fiction works have been published, with her novel Bernard and the Cloth Monkey winning the Saga Prize for new Black British writing and her current work in progress being the subject of a London Arts Board Award.
In Keeping Mum Bryan has developed an existing work (previously called A Cold Snap) and created a complex layered structure which demands the audience's attention as it darts back and forth in time, the non-sequential episodes of Emilia's life acting like fibre-optic rays of light sporadically illuminating irregular patches of a bigger picture.
Keeping Mum put me in mind of, among others, Edward Albee's The Lady from Dubuque with its visit from a metaphysical stranger and dark tones, and these various reference points guided me through the teasingly scrambled content behind the story of a young Caribbean couple experiencing their first freezing cold London winter.
Although we learn much about Emilia, her ambitious husband and her happy-go-lucky brother, as much is left untold as is told. The loose ends verge on the unfinished but, in a play that points up the deceitfulness of appearance and the vulnerability of past events to ambiguous interpretation, what use is more information?
The staging is patchy and would benefit from more pace, and a build-up to a stronger sense of unease, and even perhaps the courage to have made some cuts for something sharper.
Evadne Ricketts plays Emilia both as the young wife and the elderly mother fifty years later without reliance on props or costume as she moves between the contemporary action and her memories of life with professionally driven and apparently upright husband Gabriel, played by Howard Saddler, and cheery, un-ambitious brother, played by Marcus Adolphy.
Donna Berlin also turns in a good performance as Jacs, old Emilia's carer, and young Matt Christian Reed grapples with the elusive and curiously motivated Jay, the catalyst in this disquieting, composite piece.
Reviewer: Sandra Giorgetti