Kennedy: Bobby's Last Crusade
David Arrow
Stream.Theatre
Theatre at St Clements, New York
–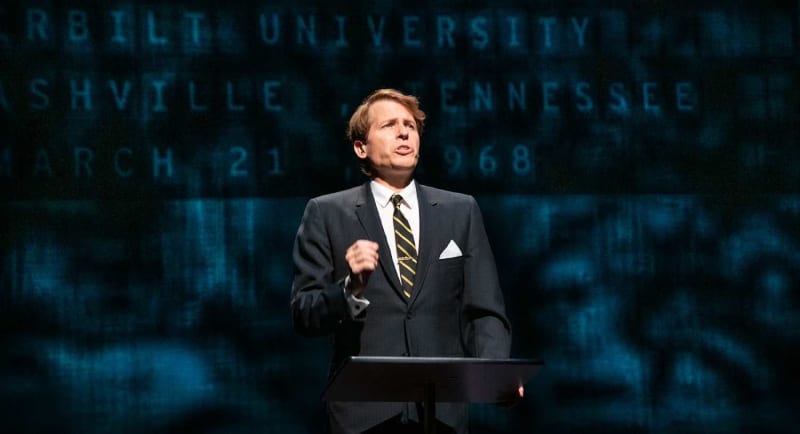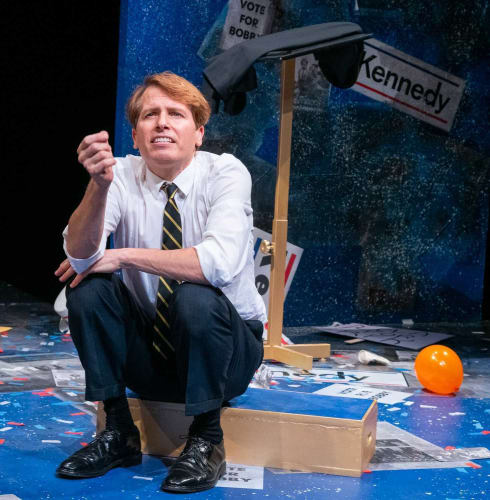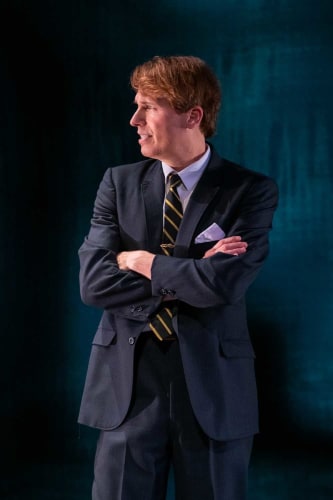 As part of its short American political season, which started with Waiting for Obama, Stream.Theatre has selected this solo show, first produced on stage off-Broadway in 2018, to mark the 50th anniversary of the events depicted, for broadcast.
Conveniently, but possibly not entirely coincidentally, the filmed launch of Kennedy: Bobby's Last Crusade plays through a week during which Joe Biden will officially be inaugurated into the highest office in the land.
In the best tradition of solo pieces, playwright David Arrow takes the leading role, conveniently looking somewhat like his subject. To get the appropriate level of independence, he calls on the services of director Eric Nightengale, who ensures that an engrossing story holds the attention through a 100-minute running time.
Following another tragic tradition, the drama is set at the Ambassador Hotel in Los Angeles on June 4, 1968, the day before that on which, as many viewers will know, history was about to be changed irrevocably when, a few hours later, Robert F Kennedy was assassinated by Sirhan Sirhan when he was potentially well on the way to becoming the next President of the United States. Had that been the case, there would have been no Nixon and no Watergate.
The play is not entirely David Arrow's invention, since he makes liberal use of Bobby Kennedy's speeches to give us a better idea of the man and his tragically curtailed vision for a bright American future during the campaign, shot after under three months. The best of these in every way are those about human rights, most particularly that paying tribute on the day Martin Luther King was murdered and a subsequent speech about violence and racial discrimination as a response to the killing.
Once again, there are obvious parallels with our own time, none more so than the "desperate President who can never admit to making a mistake", in this case Lyndon B Johnson, whose failures provided an impetus for JFK's younger brother to run for the office, drawing support from many thanks to the filial connection to the man whom they still revered. History tells us that the President's position and moral authority were both under serious threat as a result of the increasingly disastrous and costly, in every sense, war in Vietnam.
While the speeches say a great deal about the man who would be President, many viewers will be equally interested in personal insights into someone described as ruthless, although little that we see of a man who loves quoting the ancient Greeks bears this out. While unfolding the story of his curtailed election bid, Bobby comes across as a nervous, indecisive man who hates making speeches, which is a surprise in somebody with the ambition to be POTUS.
Inevitably, personal touches and tales of family history set Bobby Kennedy's life in context. These relate not only to his father and brothers but also devoted wife Ethel, not to mention their 10 children (with one more on the way).
Bobby Kennedy speaks to us from a deserted ballroom strewn with the aftermath of a celebration, while a sense of time and history is inserted by a large selection of well-chosen black-and-white photographs.
This kind of biographical monologue is designed to illuminate a character while presenting history in a digestible manner and David Arrow does exactly that.
Reviewer: Philip Fisher