Kerry Ellis Celebrates the Great British Song Book
Musical director Steve Sidwell
Shaw Theatre
(2009)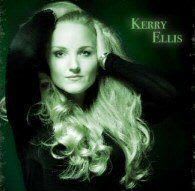 Kerry Ellis really is the rock star of the musical theatre world. Her adoring fans from We Will Rock You and Wicked have been eagerly awaiting her next move and now she's at the Shaw Theatre as the second part of the Great British Song Book installation. Kerry Ellis takes off where Maria Friedman finished, leading a new generation of musical theatre fans.
Whilst Friedman strolled through the traditional chapters of our Great British Song Book, Ellis shakes things up a bit and bounds through the final chapters. A far more extravagant affair than Friedman's simple, elegant set; Ellis has a band of six, a backing singer, four dancers and even a surprise guest. Whereas Friedman enjoyed the effortless banter with the audience, Ellis says of herself that she is a girl of few words and prefers to let the music do the talking and boy, does it talk! This is where the comparisons between the two performers end as Kerry Ellis really has emerged from behind the green make up as a star in her own right.
Mixing musical theatre with pop music this celebration feels more like a rock concert as Ellis sashays her way across the stage and struts her stuff. Musical theatre has a reputation for being camp and cheesy but there is nothing cheesy about Kerry Ellis - ok, the four the male dancers are a bit camp but that's it. Ellis is as sexy as any other female pop star out there today and she sings like a true diva.
Clearly enjoying the opportunity to sing about something other than "Defying Gravity", Ellis rocks her way through her eclectic set. Her distinctive vocals are velvety rich with a gorgeous break to her voice and a belt that just won't quit. It is no surprise that a few Queen songs make an appearance but other stand-out moments include a Lloyd Webber medley featuring songs from Song & Dance, Tell Me on a Sunday, Evita and the rockiest version you've ever heard of "Memory" from Cats.
Ellis also seduces the audience with an intoxicating Bond medley and gives a taste of the music she likes to listen to by singing songs by Snow Patrol, Goldfrapp and James Morrison.
The audience may not have any voice left after a night of shrieking and whooping but the same can't be said of Ellis, which is just as well as this limited run has been extended by two days due to popular demand. With a standing ovation before she'd even started, Kerry Ellis was never going to disappoint her dedicated fans. She may have left Oz for good but there is no place like home and for Kerry Ellis that home is most definitely the stage.
Playing until 26th June
Reviewer: Rachel Sheridan