Kicking a Dead Horse
Sam Shepard
Almeida Theatre
(2008)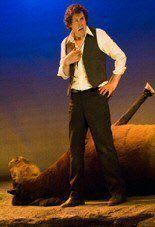 The Almeida has cornered the market in contemporary American monologues delivered by Irishmen. After Peter McDonald's virtuoso performance in Nocturne by Adam Rapp, it is Stephen Rea's turn to hog the stage, although he does have a female companion.
Without wishing to demean the efforts of Joanne Crawford, a 30 second non-speaking role leaves her playing third fiddle behind the dead horse of the title, which is a bit of a character.
Kicking a Dead Horse, which started life at Dublin's Abbey Theatre and has subsequently played at the Public in New York, sees Sam Shepard aspiring to be that other Sam, Beckett. On a desert waste in the Badlands of the Wild West, Hobart Struther has been stranded by the death of his horse.
Struther is a Park Avenue fine art dealer who has made his millions out of paintings by fellow countrymen acquired for a pittance from those who didn't realise their value.
For the next 70 minutes, he rails about life in a caustic critique which attempts to prove that The Great American Dream is long forgotten. We hear of his wife and his work but also see the vain attempts of an incompetent city slicker to get back to nature and escape from responsibility.
While Rea is alone, his character talks to a camp, inner voice showing two sides to some debates and, by the end, one wonders whether this might all be a dream, albeit not a Great American one.
The comedy comes out in the poetic language but more so from situational comedy, as the unfortunate man tries to bury his dead nag, with inevitable consequences.
Kicking a Dead Horse gives Stephen Rea (but not poor Joanne Crawford) a chance to shine under the writer's direction and looks great thanks to designer, Brian Vahey. Whether its message will mean all that much is debatable, as, in true Shepard/Beckett fashion, it is buried far beneath the text.
Reviewer: Philip Fisher