Killer Queen
Kieran Mason
Sodomite Theatre Company and GM Fringe
–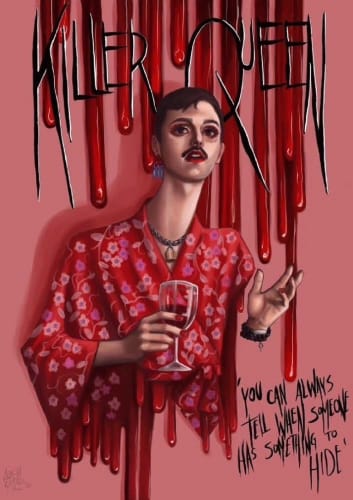 Killer Queen had been intended as a live performance as part of the GM Fringe Festival before the second lockdown forced the production to move online. Writer and sole performer Kieran Mason does not waste the opportunity to use the new format to set the background for the play: a montage of MTV promos and the "Don't die of ignorance" public health campaign makes very clear the play is set in the 1980s. It is also a skilful use of misdirection—giving the impression Killer Queen is a socially-aware play rather than a dark study of a mentally unstable character.
The play is performed as a monologue but with some slight differences from the norm, the significance of which takes some time to register. Monologues are intended to draw the audience into the mind of the speaker and so, initially at least, tend to be chatty and friendly. That is not the case with Killer Queen. Kieran Mason's narrator tells of his unhappy childhood and of his lovers but never looks directly at the camera and so avoids eye contact with the viewer. He seems anxious and distracted, giving the impression this is an inner monologue—he is talking to himself not us. Gradually it becomes clear, however, this is a confession—albeit by someone who seems incapable of remorse.
Mason draws the audience into a disturbed mind. His narrator is manipulative, trying to give the impression of sophistication with a silk robe and a preference for wine over beer. He finds it easy to pretend he is upset by the death of a father he actually hated because he lets other people project their grief onto him. There is the impression the narrator never recovered from the adverse reaction of his parents to his sexuality. The narrator despises not just his parents, he holds a grudge against society as a whole which, without offering any evidence, he feels hates his existence. Although the narrator at one point reflects it would be terrifying to be labelled as someone with HIV/AIDS, he is shockingly judgemental of other people.
A sinister atmosphere hangs over the play with Mason distractedly puffing on cigarettes and gulping wine in an uneasy manner. Mason's narrator is not a preening narcissist but a subtle, self-justifying predator. As a result, the twists in the play do not strain credibility but seem logical developments arising from the narrative and behaviour of the speaker. They are, however, no less disturbing.
Killer Queen is a short but particularly intense play that works really well online in stream format.
Reviewer: David Cunningham