King Charles III
Mike Bartlett
Sonia Friedman Productions, Stuart Thompson Productions and the Almeida Theatre in association with Lee Dean & Charles Diamond and Tulchin Bartner Productions
Wyndham's Theatre
–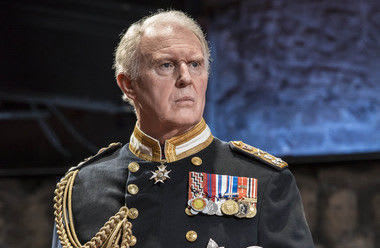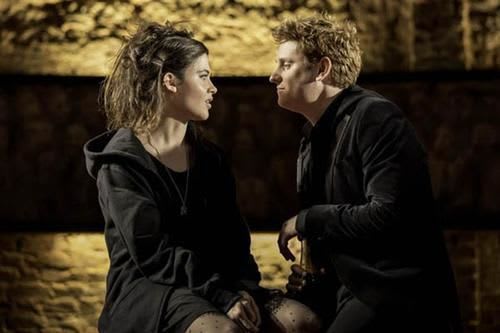 This delightful piece of futurology, already a sell-out success at the Almeida, transfers easily to the West End with a setting that suggests the brick walls that arc behind that theatre's stage. It is a pertinently predictive portrayal of our very own royal family, plus some fictional political leaders, in the period immediately following the demise of current Her Majesty Elizabeth II.
At its heart is a discussion of the role and rights of a modern British monarch, but it is the imaginative prediction of individual behaviour of both royals and politicos, with the ghost of Princess Diana sometimes fleetingly flitting across the stage to stir things, that gives the play its fascination. Their actions seem so plausibly in tune with what we know already that its clever invention of their confrontations is easy to accept, though tanks behind the Buckingham Palace railings, their guns trained on the crowd outside, is perhaps challenging belief.
Would Prince Charles's high principles really lead him to risk the constitutional crisis that this King Charles creates? Is the Duchess of Cambridge really as cunning as this clever Kate? Prince William as impatient for the throne and Harry as ready to risk all for love?
You care because Mike Bartlett and the splendid cast in Rupert Goold's production make them real people. There is no attempt here at impersonation, though casting and vocal qualities make identification easy.
Politicians and civil servants too are seen both in role and as private persons, but this picture of Labour PM Mr Evans (Adam James) and especially of Tory Opposition Leader Stevens (Nicholas Rowe) is unlikely to change a jaded view of political manoeuvring. This Labour leader, aping Blair, comes up with the catchphrase "People's Prince".
Tim Pigott-Smith delivers a superb performance as the new King Charles. Touched with charm and tetchiness, he carries the responsibility to which he has been reared with dignity and an idealistic sense of duty. It is exactly that which sparks the conflict and, instead of relishing the kingship for which he has so long waited, leaves him more like King Lear betrayed by his own children.
That's not the only Shakespearean echo: while Richard Golding's Harry is like a riotous Prince Hal taking his pleasures in the stews, brother is the Hal who takes hold of the crown and Kate Brayben's Ghost a Lady Macbeth-like Diana, halfway between a Scottish witch and one of the Bard's many wailing apparitions.
Oliver Chris and Lydia Wilson are excellent pairing as charming but determined Will and Kate, Margot Leicester is Charles's ever-supportive Camilla and Miles Richardson, as James Reiss, makes a perfect court adviser, displaying a touch of affection behind his patrician resolution and politesse.
Fresh hope and the possibility of fresh blood from Jess, a young republican from the people for whom Harry falls: Tafline Steen makes her a free spirit with an open honesty. She may be anathema to Reiss but she wins Charles over.
From its opening candle-carrying requiem to its final coronation ceremony, this is a beautifully managed piece of theatre in which Goold brings design (Tom Scutt), lighting (Jon Clark), music (Jocelyn Pook) and sound (Paul Arditti) together to enhance performance, but there is also a Shakespearean theatricality in the writing.
The language is rich and carefully crafted. It may sound entirely natural in delivery but it is shaped as verse, even with end-scene rhymes, and that only adds to the delight of the performance.
This is the sort of work that puts Britain in the forefront of world theatre. A production of which everyone involved can be proud.
Reviewer: Howard Loxton