King Hedley II
August Wilson
Theatre Royal, Stratford East
–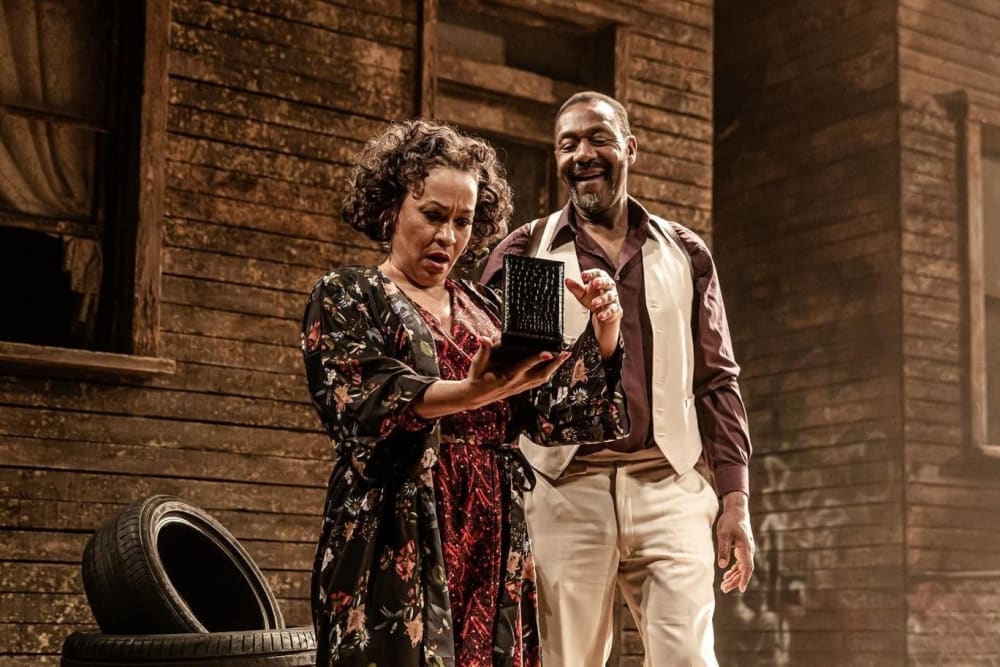 The ninth in August Wilson's ten-play cycle resenting African American life in the twentieth century, King Hedley II draws on characters from previous plays and the past casts a shadow over its 1985 present, but you don't need to have seen the others in the cycle to understand it or to feel the impact of Nadia Fall's powerful production.
It is three and a half hours (if you include the interval) of digging up the past and struggling with the present that puts demands on the audience and even more on the actors as it presents lives of African Americans in the Hill district of Pittsburgh during the Reagan years that are made heavy by violence and poverty.
King (it's his name, not his position) is out of prison after serving seven years of his sentence for killing the man who slashed his still-scarred face (it needed a hundred stitches) and is trying to build a new life selling fridges with his mate Mister. It's not exactly legit: they seem to be stolen to order and they attempt to fund the business by burglary, but his aim is to make enough to open a video store, all above board. In a dazzling performance, Aaron Pierre manages to deliver the energy and determination—the rage—that drives him while still suggesting a born victim. Seen last year as Iago in the Globe's Othello, this is an actor to take note of.
In contrast is Lenny Henry's elegantly white-suited Elmer, an old flame of King's mother Ruby who walked out on her years ago, now claiming he never stopped loving her. He's a smooth-talking con man, involved in the family's back-story in ways that are eventually uncovered. Henry gives him the sort of charm that makes people happily get cheated. He can run rings round King and Mister and rekindle happy days for former singer Ruby. She's been toughed by a life in which her menfolk have killed and been killed but Martina Laird plays her strong but still with a warm heart.
As King's wife Tonya, who holds down a regular job and worries that he will do something that will put him back in prison, Cherrelle Skeete becomes determined to abort when she discover she is pregnant with an impassioned speech about not wanting to bring a child into the world to be shot dead.
The play is a little heavy with such long speeches but they are delivered with passion, make their points clearly and become part of the pattern that builds to the play's dramatic conclusion. The darkness is enlivened by the vitality of the playing, especially that of Dexter Flanders's Mister, desperate for cash to get himself furniture though he seems to be homeless but naively and endearingly innocent, his bright shirts like cheery sunshine.
The backs of a terrace of dark, rundown houses with wire fences separating their backyards cuts across the stage like a prison wall and Peter McKintosh's set is just one of the symbolic reminders of the way society traps these lives. Leo Wringer's crazy-eyed newspaper vendor Stool Pigeon (who opens and closes the play with his mixture of Old Testament quotation and voodoo) even finds an inexplicably dead cat to bury.
Though Lenny Henry's appearance in Elmer's white suit and stylish headwear enters like a visiting celebrity, that's the character not the performer. This is the opposite of a star's showcase: it is a rounded production played by a well-matched and integrated ensemble. This may not be the best play in Wilson's Twentieth Century Cycle, but it couldn't get a stronger production. Though written twenty years ago and set a decade earlier, it is not just a piece of history. It is not just the blood-stained machete that King Hedley I has left to his successor that makes Wilson's play still so relevant.
Reviewer: Howard Loxton