Othello
William Shakespeare
Shakespeare's Globe
–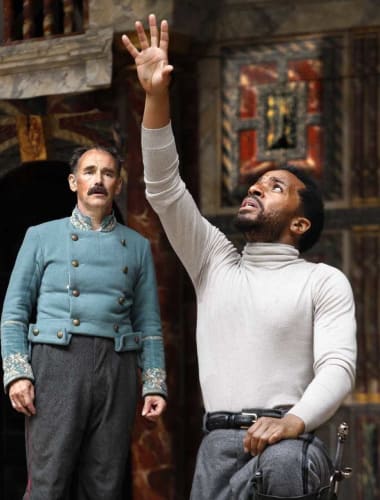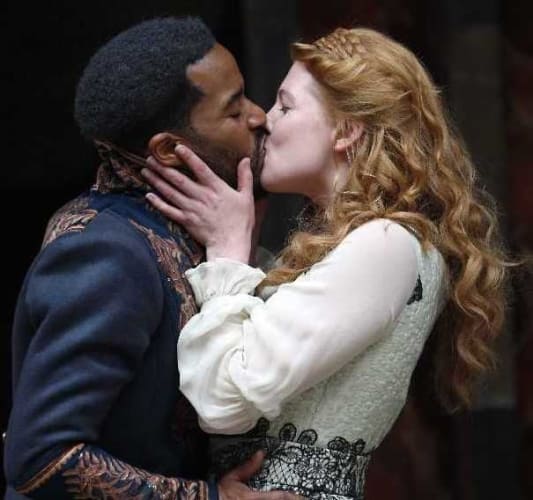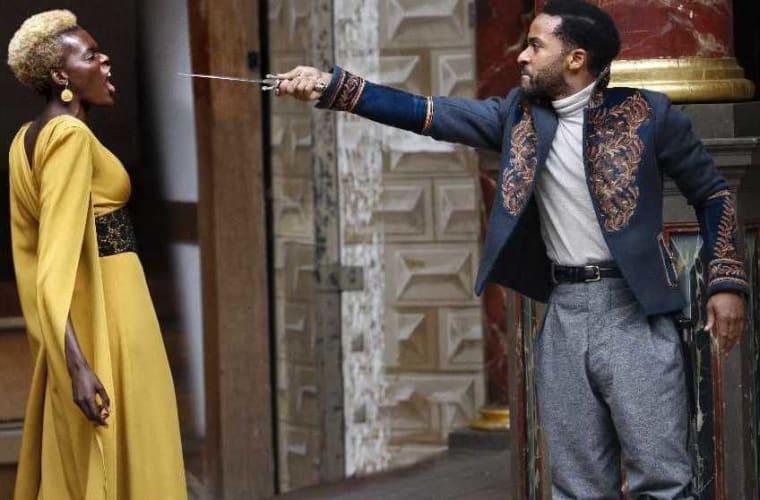 Whenever Mark Rylance returns to the Globe, spectators are in for a treat. He creates characters like no other actor, putting fresh interpretations into every role that he chooses to take.
On this occasion, under direction of his wife Claire Van Kampen, the actor plays honest but evil Iago opposite American stage and screen star André Holland, possibly best known for his work in Moonlight.
They make a compelling combination. As the Moor, Holland presents a passionate individual who is quick to love but also to anger.
Playing this "ancient", the man who called this venue his home for over a decade has something of the demeanour of the Charlie Chaplin Tramp. He speaks in hesitating, uncertain tones throughout. However, beneath the shy, nervous façade there lies an inherent malevolence that only becomes fully apparent in the later stages of an evening that stretches to just under 2¾ hours.
In the opening scene, Iago has already begun to set out his stall, scheming unkindly against the general who naïvely regards him as a loyal, right hand man.
In these more liberal times, the overt racial prejudice of the period can be difficult to comprehend but William Chubb playing Brabantio is clearly deeply distressed to discover that his daughter Desdemona, visually a flame-haired Pre-Raphaelite, wishes to marry even a distinguished black man.
The lady's happiness is short-lived once Iago's insidious jealousy begins to infect her husband, as increasingly complex machinations begin to cause unrest and eventually take lives.
In keeping with Michelle Terry's underlying principles for the season, there is a gender equality, that requires some changes to the script, which is also adapted in other relatively minor ways, primarily to keep the playing time in bounds.
The Globe does not generally worry too much about spectacular design concepts but, thanks to the contribution of Jonathan Fensom, there are some clever nautical scenes, while the four-poster bed that becomes integral to the climax also catches the eye.
The costumes are not obviously those of a single era. Iago looks rather like a Confederate private in a jaunty, off-centre red cap, while Othello wears more traditional garb. Playing Emilia, Sheila Atim, who makes her mark with a final impassioned speech, spends much of the evening wearing a beautiful gown that could easily grace the star of a sci-fi movie.
This production conveys much of the spirit and essence that one would expect from a Globe production of one of the great Shakespearean tragedies, although some of the body language and gestures are very much of the 21st century, that impression consolidated by the leading actor's American accent.
There seems little doubt that the run will sell out immediately, with long returns queues filled with those desperate to enjoy the play but also a glimpse of their favourite screen stars. Pleasingly, those that are lucky enough to get in should enjoy the experience.
Reviewer: Philip Fisher