King Lear
William Shakespeare
Almeida
–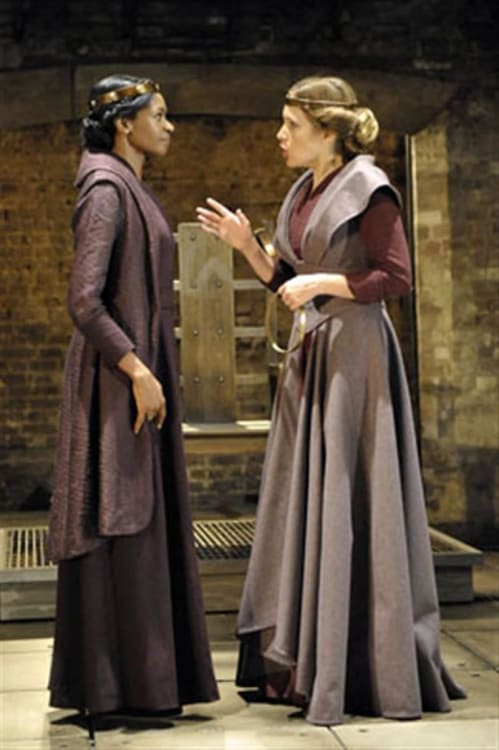 Considerably helped by the intimacy of the Almeida, Michael Attenborough's sharply directed new version of King Lear is as good as any in recent years.
It benefits from a towering central performance delivered by Jonathan Pryce, whose ability to create subtle nuance is brought to the fore in this role.
Designer Tom Scutt has chosen a route that nowadays almost seems novel, dressing the cast in period costumes and allowing them to play out the drama surrounded by grim, brick walls punctuated by metal shutters that introduce terrible finality into the swift transitions between scenes.
At the start, it almost seems that Attenborough has discovered a new play since, as Lear divides his kingdom, there is almost a case of happy families, such is the love that shines between the father and his two eldest daughters, Zoë Waites and Jenny Jules playing Goneril and Regan.
The only element of doubt is introduced as Phoebe Fox, taking the role of their younger sister Cordelia, shows a thoroughly modern petulance in the face of father's misguided generosity.
In no time however, following the banishment of a particularly empathetic Ian Gelder as Kent, the trouble starts.
First, proud Goneril starts lording it over the old man and in no time, her deeply unpleasant sister with an unequivocally evil husband, Chook Sibtain's Cornwall takes a similar stance.
Still, the King remains a strong force although gradually he is worn down until an unforgettable scene on the blasted heath, given tremendous atmosphere by what must surely become award-winning, minimalist lighting from Jon Clark.
Now, not only does Kent come to the fore to support the King but also Trevor Fox as a particularly down-to-earth but kindly, Geordie Fool and Richard Goulding's Poor Tom, who moves in from the other strand of the play.
While deliberately ineffectual as wishy-washy Edgar under the malign influence of his illegitimate brother Edmund, a sinister Kieran Bew complete with Yorkshire accent, the young man proves a great support both to the King and the latter's alter ego the young men's father Gloucester.
In this role, Clive Wood manages to balance poor judgement with great nobility, never more so than in the horrific scene when he simultaneously loses sight and hope.
Having shown himself to be a magisterial King, Jonathan Pryce descends into totally convincing madness but only briefly as seeds of hope for a return to sanity are soon observed.
However, this is a false dawn since no Shakespearean tragedy offers a happy ending and the most that we can witness is a deeply moving reconciliation with his youngest daughter in the midst of a bloodbath that leaves the country bereft of any viable leader.
This production is at its strongest in the characterisation and interaction between good and evil and this is perhaps best personified in a startlingly realistic double sword fight between Edmund and Edgar that really does seem to threaten the limbs of the actors.
All in all, this is a very successful version of the play, cut to three hours including an interval but still getting to the heart of the story, if losing occasional subplots.
Michael Attenborough's production is also graced by perfect verse speaking right through the cast and is likely to be remembered and favourably compared with upcoming productions for some years to come.
Reviewer: Philip Fisher