The King and I
Music by Richard Rodgers, book and lyrics by Oscar Hammerstein II
Based on the novel Anna and the King of Siam by Margaret Landon
Sunderland Empire and touring
(2005)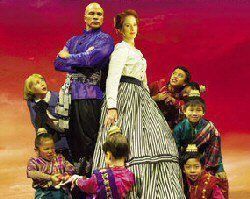 I have just spent two and a half hours in a time warp!
At least, that is how watching this touring production of The King and I felt. Apart from the use of modern staging technology, this is a very traditional (if one may use that word of something written in 1951) production. Not that I am complaining. Having recently watched, in the same theatre, Annie Get Your Gun set in an 1940s PX, it came as a great relief that the director didn't feel it necessary to set it in a Chinese take-away in Bradford or a football field in the Outer Hebrides.
On the contrary, if there is one adjective to describe this production, it is sumptuous. The costumes, set and lighting are rich and extremely impressive, the orchestrations lush and the singing superb. And they are all just what you would expect, as is the (recreated) Jerome Robbins choreography.
To do anything other would be to destroy the show, frankly. For those who were suffering, in the early fifties, from post-War austerity, shows such as this were a welcome escape, and, in any case, who could imagine the court of the king of Siam in any other way?
And the performances are in the same mould: as Anna, Elizabeth Renihan is incredibly like Deborah Kerr, even to that fifties voice to which the Royal Family still clings. But it is right that she should be so, for much of the attraction of the show is its appeal to nostalgia. Kevin Gray, although looking a bit like Yull Brynner (in the film rather than in the Broadway production), is a rather earthier (and, at the end, less unbending) King than his predecessor.
I was much taken with Yanle Zhong as Tuptin. After a slightly uncertain start with "My Lord and Master" where I felt she was pulling back, she quickly found her voice and the duet "We Kiss in the Shadow" with Phong Truong as Lun Tha was a real highlight. Her narration of "The Little House of Uncle Thomas", in which she all but cracks under the strain but manages to pull herself back, was well judged.
Indeed, the performances were uniformly excellent, marrying well with the high production values of the staging. Indeed, you will not find a better produced musical on the touring circuit, which makes it a must-see, even for those who, like me, are not altogether convinced of the quality of the libretto - heretical though that may seem!
"The King and I" plays at the Sunderland Empire until 15th October
Reviewer: Peter Lathan