Kingdom of Earth
Tennessee Williams
The Print Room, Notting Hill
(2011)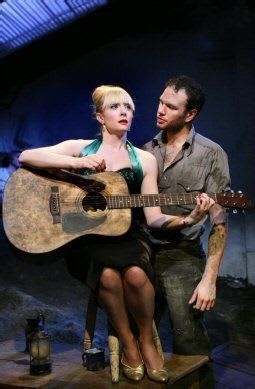 The Tennessee Williams Centenary celebrations are giving Londoners a chance to see some of the writer's lesser-known works. Following on from the two world premieres at the sadly defunct Cock Tavern, Lucy Bailey has revived Kingdom of Earth.
Influenced by Robert Polidori photographs (on exhibition at the theatre) of the devastation wrought by Hurricane Katrina, Ruth Sutcliffe's set turns the claustrophobic home of barely respectable hicks in the Deep South into a surreal, symbolic mudslide over which a trio of actors are forced to clamber for nearly 2½ hours.
Strangely, in structural terms, this play has much in common with Harold Pinter's The Caretaker, though the characters are instantly recognisable as Williams creations.
The opening is more like The Homecoming, as frail mother's boy Lot, played by Joseph Drake, brings his new wife to the family home. He has only known Fiona Glascott's loud Myrtle for a few days and each has a pile of secrets for the other to learn during an unorthodox honeymoon.
Originally conceived in 1940 but not seen on stage until 1968 with the title The Seven Descents of Myrtle, this unsettling comedy soon changes focus from the "impotent one-lunged sissy", Lot. His goal in entering into a televised marriage of convenience is to have some mother-surrogate company in a final tubercular illness, as well as protecting the modest family inheritance.
Myrtle, a former showgirl (and headless woman) has a shrill voice and surface attitudes to match, though there is a hint of underlying Puritanism.
Her first shock is to discover a stranger in the kitchen. The seeming madman turns out to be Lot's half brother from the wrong (colored) side of their father's blanket.
Like the newly-weds, David Sturzaker as Chicken is a mass of contradictions - on first sight, mad, bad and dangerous to know. In fact, he has a native intelligence and, unlike neutered brother Lot, as much steamy sexuality as his sister-in-law.
As a biblical storm threatens to wipe them all out, the brothers vie for the lady, each happy to double cross the other given the chance.
All three actors acquit themselves well playing unpleasant people in a piece that may not show Williams at his best and is not fully sustained but does give viewers yet another chance to explore different facets of his stock characters in a fresh setting.
Reviewer: Philip Fisher