King Lear
William Shakespeare
Royal Shakespeare Theatre, Stratford
(2004)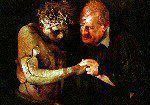 Corin Redgrave is undoubtedly one of our finest actors. When the RSC was looking for someone to play Lear, one of the greatest roles in the canon, Redgrave must have been near if not at the top of the list.
Having seen him perform twice recently in totally different productions, I was curious to see how he would portray the complexities of arguably the most complex character the Bard ever wrote about. Would we get the Redgrave who won the Barclays Theatre Award for best actor in 2002 for his inimitable interpretation of Andrew Crocker-Harris in The Browning Version at Derby Playhouse? Or would we see the Redgrave who totally miscast himself as the buffoonish Captain Brazen in The Recruiting Officer, the disappointing first play when Lichfield Garrick opened last year?
Actually we get the best of both sides of Redgrave. He gives a stunning, original portrayal of a petulant, irresponsible king who likes to clown about.
Right from the beginning we see a Lear who likes to have a laugh. He hobbles onto the stage bent double, walking stick tapping out his unsteady path, appearing a typical, careworn, old man. Suddenly he straightens up, throws the stick away and breaks into a joyous laugh of triumph after convincing his court of his infirmity.
Later he breaks into a chant of "dinner, dinner, dinner", prancing around like an expectant schoolboy who's about to have a burger and large fries. He's also encouraged to be silly at every opportunity by the Fool and the disguised Kent after he's been banished.
Lear shows pique when Cordelia refuses to reveal to the king how much she loves him. Redgrave doesn't give us a Lear who berates his favoured daughter because of her lack of gratitude; he gives us a spoiled brat who hates not getting his own way.
Redgrave has enormous stage presence, dominating each scene in which he features. His rage against the storm is remarkable, and at the end he turns into a whimpering wreck of a man, crawling on all fours towards Cordelia's body and wearing unflattering underwear which strips him of his dignity.
Here perhaps is the only time Redgrave doesn't make the most of a scene. He doesn't display the solemnity of someone who's lost his youngest daughter and realised what a fool he's been. Maybe the intention was to show that he was still mad when he thought he saw Cordelia move - but I didn't have a lot of sympathy for Lear's hopeless situation.
Bill Alexander's production, all three-and-a-half hours of it although it hardly ever drags, is the third in the tragedies season. The ensemble has been given a longer rehearsal period than usual, allowing the actors to concentrate on Shakespeare's verse. Alexander and designer Tom Piper appear to have decided that the production needs only a stark set, with tables and benches moved around when necessary. The costumes for the most part are unostentatious. However, this means Lear's court has neither opulence nor grandeur; the sense of royalty is lacking.
But a number of stirring performances make up for the deficiency. Louis Hilyer is a fiery Kent steeped in honour; David Hargreaves a dignified Gloucester; and John Normington a well-defined Fool who can get away with injudicious remarks to Lear because of his advancing years.
As for Gloucester's sons, Pal Aron is an immensely impressive Edgar, especially when disguised as the mad beggar man Tom; and Matthew Rhys is a suave Edmund. He might have been slightly more sinister but Rhys seems much more comfortable in the role than in the male lead in Romeo and Juliet which is playing in the same theatre.
Emily Raymond (Goneril) and Ruth Gemmell (Regan) give solid performances although they might also have had a touch more evil about them while Sian Brooke is a high-principled rather than stubborn Cordelia.
Overall the verse-speaking is of a very high quality; Leo Wringer takes it to another level and gives a controlled performance as the Duke of Albany.
The RSC justifiably came in for criticism in the past for not presenting the excellence its name stands for. Thanks to artistic director Michael Boyd's vision, King Lear and the other offerings this season have gone a long way towards restoring the RSC's tarnished image.
"King Lear" runs until September 29th
Peter Lathan reviewed this production as part of the RSC Newcastle season, and Philip Fisher saw it at the Albery.
Reviewer: Steve Orme