King Lear
William Shakespeare
RSC at the Albery
(2005)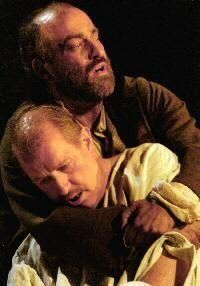 Bill Alexander's lively new interpretation of King Lear for the RSC seems particularly timely at the moment. A story where not one but two noble fathers find themselves struggling with unruly children is something almost straight from last week's news headlines. In this context at least perhaps Prince Charles - and Mrs Thatcher! - should think themselves lucky and a visit to the Albery might even help them keep matters in perspective!
The director is a real RSC veteran having made his debut almost 30 years ago. He uses enough fur in Victorian-era costumes to offend some visitors, and an effective Tom Piper low-budget set. This consists of little more than a few tables and benches cleverly lit, often from the side, by Tim Mitchell. Alexander uses the resources well but is primarily reliant on his vision and his actors.
The vision can be overly emphatic. This is most noticeable in the storm scene, when it could be argued that the volume has got out of control, as the building shakes with each clap of thunder. It may have been coincidence but a lady in Row E rushed out at this point, never to be seen again. Occasionally, the acting showed similar excess.
Corin Redgrave's Lear is first seen at a table set up as if for The Last Supper. His foolish generosity in giving away his kingdom is explained by what appears to be a constant state of drunkenness. Not surprisingly, the actor has great fun in portraying this as he carves England up between his daughters with a map and a paintbrush, like some tipsy schoolmaster.
Redgrave, always entertaining, is possibly at his best both raging in the storm scene and in a transition where this jokey drunkard suddenly acquires a degree of desperate pathos when he realises the enormity of his errors of judgment.
Emily Raymond and Ruth Gemmell make as frosty a pair of evil sisters as one could ever see. They are not into cracking smiles and their cruelty lacks the sympathetic ambivalence almost always seen in past Gonerills (sic) and Regans.
They are matched in evil intent by the pairing of the Byronic Edmund (Matthew Rhys), recently seen as Romeo and Anatol Yusef's Cornwall. These schemers will stop at nothing to take over the country and cause much pain not least to Edmund's father Gloucester, played by David Hargreaves, who looks uncannily like Charles Darwin in the opening scene.
On the good side of the equation, there is excellent acting from Louis Hilyer as the loyal Earl of Kent, a man with a sense of humour but also a deep belief in justice. As good is Sîan Brooke who gets real feeling into her performance as Cordelia, which will not surprise those who recently saw her playing Juliet opposite Rhys.
This four-hour production is generally well paced and builds to a finale containing a memorable image as Lear drags the body of Cordelia on to the stage to join those of her sisters. Then, it can only be a matter of time before his heart breaks and the tragedy is complete.
This may not be an absolute classic but it feels fresh and nothing like its four hours.
This review originally appeared on Theatreworld in a slightly different version
Steve Orme reviewed this production at Stratford and Peter Lathan reviewed it during the RSC Newcastle season.
Reviewer: Philip Fisher