Kinky Boots
Book by Harvey Fierstein, music & lyrics by Cyndi Lauper
Opera House, Manchester
–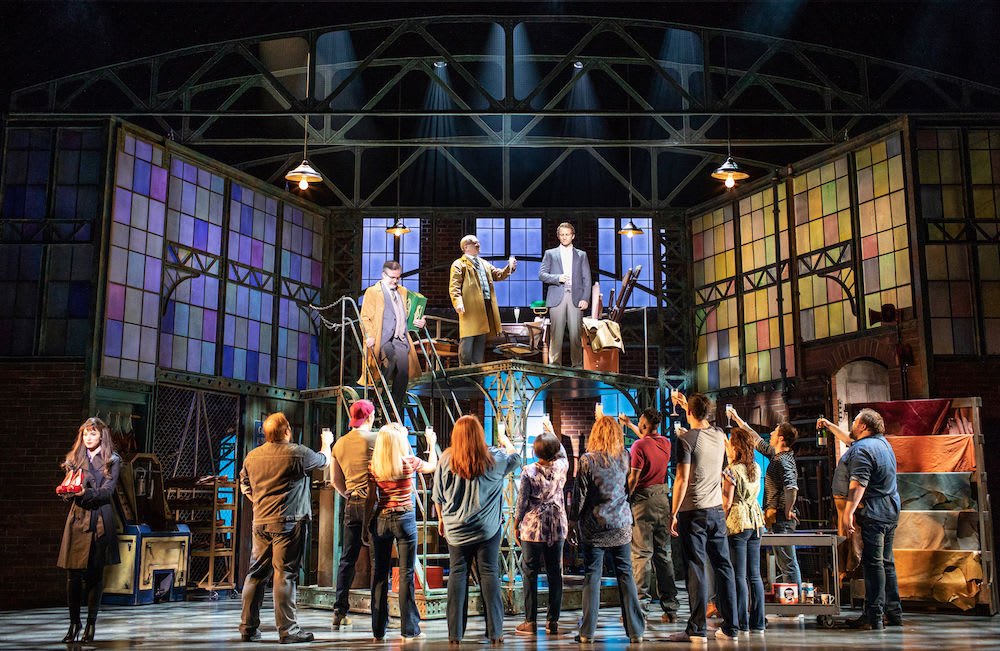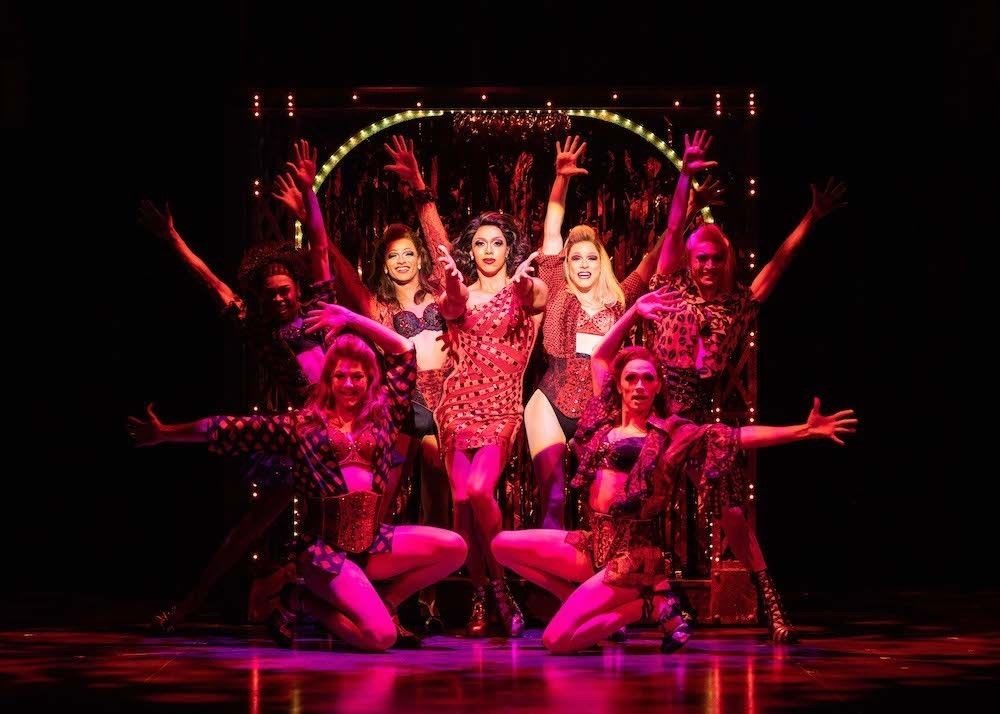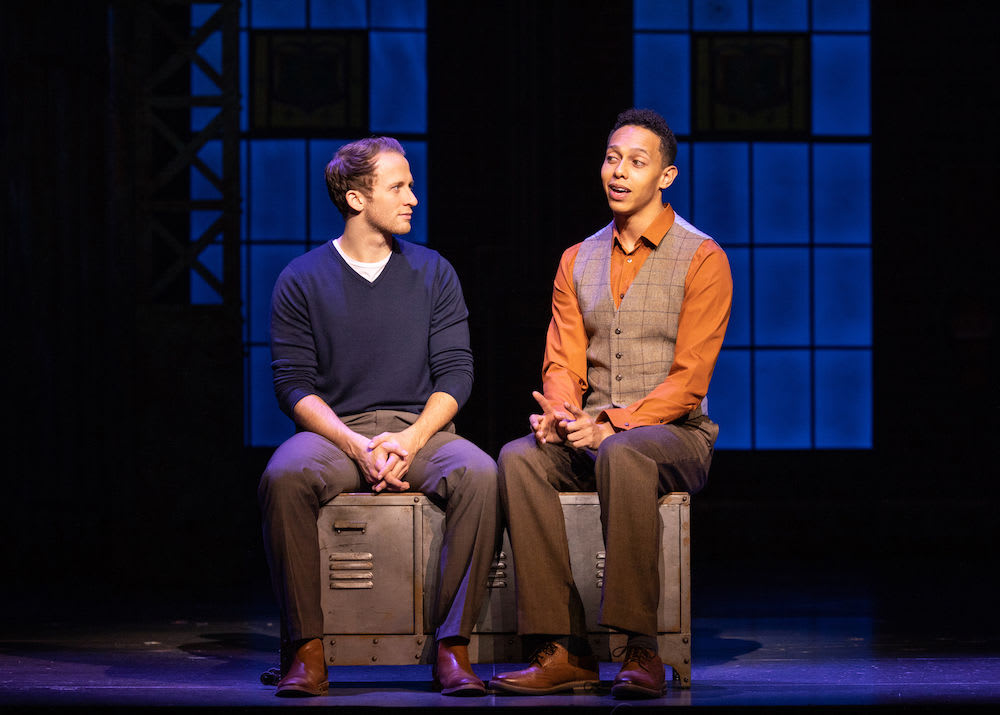 Who would have thought that a smash hit, Tony Award-winning musical with a book by a Broadway legend and songs by an '80s American pop star would be set in Northampton? However, given a setting of a declining manufacturing industry in England, in this case shoes, it could be put in the same category as the likes of The Full Monty or Billy Elliot, although it isn't as political as either of these (Thatcher isn't mentioned once!).
In fact the plot is straight out of a northern English industrial play of a century ago combined with a good old-fashioned musical comedy. Mr Price (Andy Watkins) wants his son Charlie to take over the family business of Price and Son, but Charlie has other ideas. He plans to go to London with his fiancée Nicola (Helen Ternent) who is interested in wearing expensive shoes but couldn't care less about their manufacture and whose concept of success is closely linked to money. However his father dies leaving him the factory, which isn't in a great financial state as it produces expensive shoes that will last a lifetime that have to compete in the market with cheap imports that might last a year.
A romcom element is added in the form of factory girl Lauren, the one the audience is steered to want Charlie to end up with instead of prissy, intolerant and unimaginative Nicola. However the spanner in the works is the appearance of drag queen Lola and his Angels (Connor Collins, John J Dempsey, Damon Gould, Joshua Lovell, Chileshé Mondelle and Toyan Thomas-Browne), who create quite a stir in working-class Northampton but give Charlie the idea for how to save the factory: women's boots specially built for drag queens to hold the weight of a man on a stiletto heel.
In many ways, the script construction looks like plotting by numbers as everything falls just where the expensive scriptwriting courses say it should, but it is largely done very well. The exposition between father and son is a bit rushed and the foiled attack on Lola down a dark street that introduces her to Charlie is over before you can work out what's happening, but then the build-up to the fashion show in Milan accelerates nicely towards the final turning point when everything seems to have fallen apart. But of course everyone rallies round for the dénouement to build up to a climactic final scene.
There is a nice moment between Lola and Charlie where they both reflect on how they tried to please their fathers by trying to be something they weren't. There is a continuing father-and-son theme, actually, which is underdeveloped, culminating in a moment of reconciliation that is staged too curtly to have any impact.
Lauper's songs don't have the show-off wit of Tim Minchin's Matilda, the show that Kinky Boots beat to the Tony for Best Musical, but the music works as pop music shaped to fit a musical theatre style and lyrics that serve the story and the characters perfectly well.
The show revolves largely around the character of Lola, and Callum Francis—who, it has just been announced, is to play the part on Broadway—is astonishingly good. As Lola, he has all the brash self-confidence and the sassy wit to deal with any lip from the 'manly' men in the factory, but when he appears out of costume, just as Simon from Clacton, he is barely recognisable as a frightened little boy who hides in the toilets at the first sign of confrontation.
As the central character of Charlie, Joel Harper-Jackson holds the whole show together well in a fairly demanding role, albeit one that doesn't necessarily get the most attention. Paula Lane is great as Lauren, a bit dizzy but lovable character with some great comic moments—I loved the '80s rock video moment when she uses the compressed air machine to blow her hair back during her big solo. Demitri Lampra is perfect as Don, the blokey factory worker who is the last to accept Lola for who she is.
It's an innocent, old-fashioned quest for the underdog to succeed with a comic love triangle and some crowd-pleasing songs and spectacular dance routines from director and choreographer Jerry Mitchell (some of the routines went on a bit too long for me—the form of the pop song can get a bit repetitive if stretched too far). The drab setting of a Victorian factory building is transformed by the glitz and glamour of Lola and her Angels, who have some amazing costumes (costume designer is Gregg Barnes).
All-in-all, a great fun show suitable for all the family.
Reviewer: David Chadderton