Kiss of the Spider Woman
Manuel Puig, in a new version by José Rivera and Allan Baker
Menier Chocolate Factory
Menier Chocolate Factory
–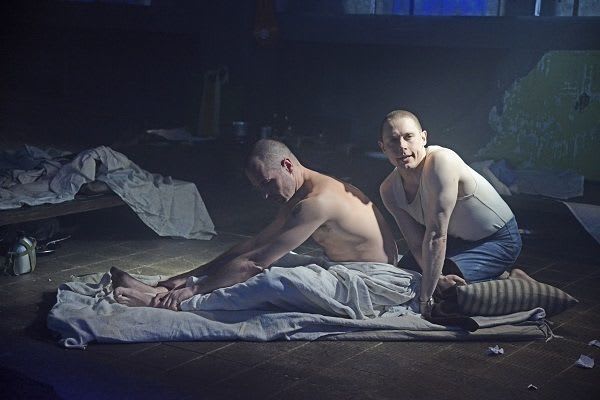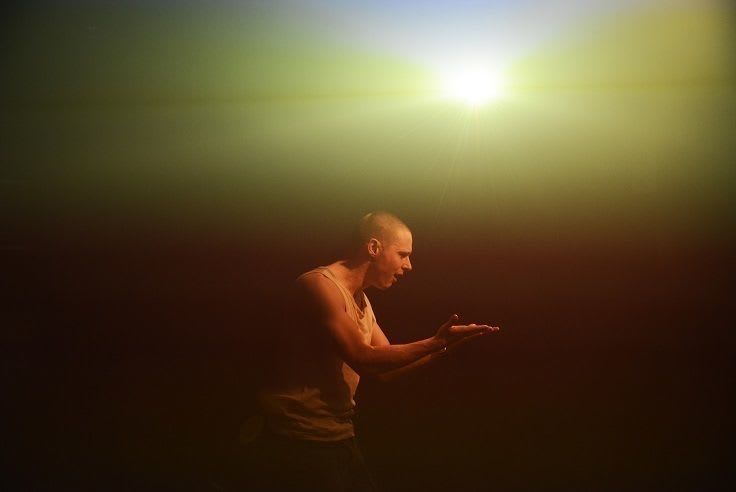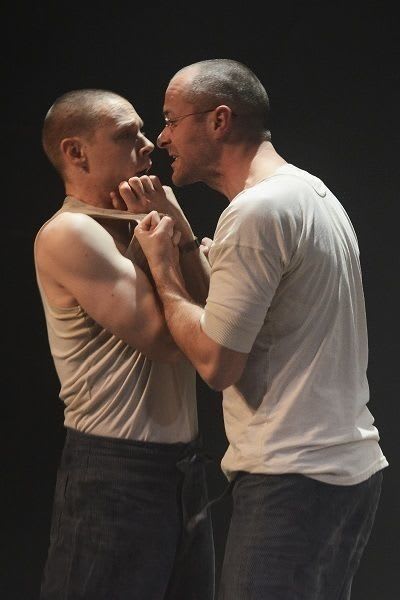 Manuel Puig's novel from 1976, which has now attained the status of a modern classic, has proved remarkably popular with both film and theatre folk. It was adapted by the novelist into a stage play in 1983, made into an acclaimed film in 1985 and a Kander and Ebb Broadway musical seven years later. Along the way, streams of top actors have vied for the opportunity to take the central roles.
This version, newly created by José Rivera and Allan Baker, is stripped right back into what is practically a two-hander featuring Samuel Barnett as Molina and Declan Bennett playing Valentin. This is not to diminish a cameo by Grace Cookey-Gam in the role of a suitably sinister prison Warden.
The drama takes place in a cramped, square prison cell in Buenos Aires, Argentina, as a calendar on the wall indicates over a period commencing in 1975. To add to the impact on audience members, designer John Bausor has chillingly extended the prison setting across the boundary walls of two sides of the auditorium, each of which is filled by sinister, closed cell doors.
Those believing in the vindictiveness and efficacy of secret police in dictatorships might ignore chaos theory and suspect the malign motives of prison authorities who have deliberately had mismatched individuals in such claustrophobic proximity.
Molina is a homosexual who has been incarcerated having been caught in an act of gross indecency involving the corruption of minors. His cellmate is a political prisoner, deeply committed to "the cause" and willing to sacrifice his freedom and possibly has life to support its principles.
Some kind of affinity builds up due to the lack of any other options and a need to maintain sanity. Window dresser Molina has a particular talent for conveying the plots of old movies, to which he was addicted when at large. In this, he is aided by Samuel Barnett's highly expressive acting style but also Andrzej Goulding's charming black-and-white projections, frequently utilising silhouette.
These escapist night-time moments punctuate the horrors of imprisonment and uncertainty, with torture far more likely than release, hardly helped by terrible food that eventually weakens both men leading to graphic scenes of the aftermath of food poisoning.
Through the 100-minute running time, the two men bond ever more closely, sharing their histories, fantasies and, eventually, far more. By the end, viewers will feel that they know the thoughts and motivations of both co-protagonists intimately, as well as having a considerably deeper understanding of the terrors of totalitarianism, Argentinian-style than they might ideally have wished to gain on a sociable evening out.
Laurie Sansom's production will best be remembered for outstanding performances from both actors, with Samuel Barnett perhaps garnering the best of the accolades, which is a tribute both to the character with which he has been asked to work and also his own indisputable talent.
Reviewer: Philip Fisher