The Kissing Dance
Music by Howard Goodall, book and lyrics by Charles Hart adapted from She Stoops to Conquer by Oliver Goldsmith
Produced by Chantelle Staynings and Peter Huntley Productions in association with Jermyn Street Theatre
Jermyn Street Theatre
(2011)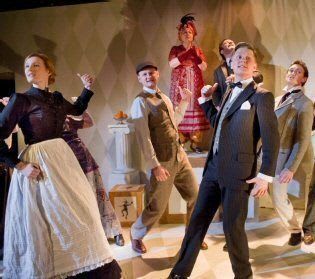 The Kissing Dance has all the fun and mischief of She Stoops to Conquer on which it is based, combined with music from award-winning Howard Goodall and book and lyrics by award-winning Charles Hart. The National Youth Music Theatre originally commissioned and premiered the musical in 1998, and perhaps these juvenile origins and the youthfulness of most of the current cast explain the above-and-beyond bubbly exuberance which makes this (reworked) production such a joy.
Goodall's pastoral compositions are not so haunting as those for The Hired Man and the love songs stop short of a real emotional tug but this story of misunderstandings, disguises and deceits wouldn't lend itself to rending ardour and the music is of course beautifully melodic. Hart's witty lyrics positively crackle at times and the book manifests all the rompiness of this comedy but also decorates it with bijoux word play: just as I have been waiting decades for the opportunity to say "Don't quibble, Sybil" (who is called Sybil these days?), I now also want the opportunity to use Hart's "You must have prudence, Constance".
There are times when the story or a song takes too long to get where it is going; the number 'The Decent Thing' takes a huge leap from lust at first sight to true love, and strangely the title song is the least successful and most halting, but director Lotte Wakeham doesn't let the slump last. The staging, the choreography by Tim Jackson and the minimalist set (designed by Samal Blak) work well together and the tiny Jermyn Street Theatre has never looked so capacious.
Heading the cast is the amiable David Burt playing Dick Hardcastle, tolerant good–natured father, and husband to well–intentioned harridan Dorothy, played by Beverley Klein with a nod to Norma Desmond playing an overbearing Jewish mother. Their performances are a pleasure to watch and their eyes twinkle with a naughtiness.
Gina Beck and Gemma Sutton are the pretty, charming and clear–voiced friends whose suitors' visit is the catalyst for the mayhem that ensues. Their two beaux are played by Ian Virgo and Dylan Turner, the former appealingly gullible, the latter more urbane but both agreeable, almost suave, by contrast to Jack Shalloo's loutish Tony Lumpkin who is full of cheeky devilry.
With the west end prematurely deprived of Howard Goodall's lovely but nonetheless tricky proposition Love Story, this joyful Edwardian-set production is a playful echo of what we are missing.
"The Kissing Dance" plays until 23 April with performances Tuesday to Saturday at 7.30pm and matinées on Saturday and Sunday at 3.30pm
Reviewer: Sandra Giorgetti