Kiss Me, Kate
Cole Porter
Michael Blakemore's production choreographed by Kathleen Marshall
Directed for provincial tour by Petra Siniawski with choreography by Vikki Coote New Victoria Theatre, Woking
(2005)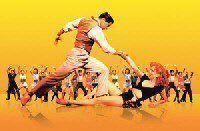 They opened in Woking - and those who missed Michael Blakemore's lusty production of Cole Porter's Kiss Me, Kate at the Victoria Palace should take note.
Fred Graham's army is on the road again with the best Shakespearian musical West Side Story apart. Now in the evidently capable hands of Petra Siniawski, formerly Blakemore's number two, with new choreography by Vikki Coote, who captained the original dance team at the Palace, the show is a vigorous account of 'on-stage-back stage' affairs around Broadway.
If anything, it's a little too vigorous. For instance, whatever happened to the old musical director? Here, we have "musical supervision" (Richard Balcombe) with MD (Greg Arrowsmith) relegated to first keyboard and allowed merely the courtesy of a brief head above the parapet at the curtain.
The result is certainly well drilled, highly professional orchestral backing (occasionally tending to fronting), but without any sense of living musicians involved emotionally in the performance. By no means a rare experience nowadays as I wonder regularly whether it isn't a recording machine the man is waving at down there. Compare that with the sweating fiddlers in shorts in the pit at Bayreuth!
Yet with those amazing mics, soon no doubt to be implanted like pet security bleepers, voices of singers now assume a common, mass-produced sound. From Broadway stars Mazzie and Barrett at the Victoria Palace to today's look and sound alikes Julie-Alanah Brighten and Craig Urbani the only difference seems the quality of amplification.
Yet so long as that works, and the man at the controls keeps his enthusiasm in check, the show is secure. And at Woking, at least, we are spared the phantom digital imagery of Woman In White that plays such havoc with the spectator's inner ear. Kiss Me, Kate has splendid 'live' scenery (thanks to Robin Wagner), which moves immaculately - and even wobbles!
Urtbani and Brighten are an energetic couple thoroughly in tune with proceedings while the shapely Michelle Francis has a ball with "Always True To You Darlin' In My Fashion". Less on song are Michael Greco and Duncan Smith as the gangsters - reminding us that mics alone do not make a voice and that the classic "Brush Up Your Shakespeare" doesn't automatically bring down the house.
"Kiss Me, Kate" is at Woking until 26th February after which the production visits Bradford Alhambra (28th February), Newcastle Theatre Royal (14th March), Cardiff Millennium (21st March), Liverpool Empire (18th April), Leeds Grand (25th April) and Hull New Theatre (2nd May).
Peter Lathan reviewed this production at the Theatre Royal, Newcastle
Reviewer: Kevin Catchpole