The Kitchen Sink
Tom Wells
The Bush, Shepherd's Bush
–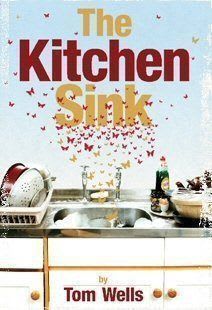 The new Bush Theatre can now take an audience of 144, around twice as many as its much loved though far less comfortable predecessor just around the corner.
The space is also infinitely flexible, which means that Tamara Harvey's production of this new play set in a working class Yorkshire kitchen is enjoyed in the round.
The family at its centre are suffering from hard recessionary times (and accents that bring to mind Peter Sellers as Clouseau). As such, give or take one or two minor references, they could be living in any period over the last thirty years or so.
Father Martin, played by Steffan Rhodri, is a milkman in love with his float and his round even though the former is held together by devotion and sticky tape, while sales are declining fast in the face of supermarket competition.
His admirably devoted wife, Lisa Palfrey's Kath, can generally see the bright side of any dilemma and she needs to, as adversity hits the family like a rampaging plague.
Ryan Sampson as Billy, a character who might have walked straight in from a Jonathan Harvey play, seems to have inherited the family trait of insecurity and low self-esteem. This friend of Dolly rather than Dorothy opens the play by showing us his garish portrait of Miss Parton, which proves to be the deciding factor in his selection for a London art college. However, a love of kitsch plus innate conservatism are not what trendy southerners are after in the days of post-post-modernism.
That just leaves his sister Sophie. Leah Brotherhead's character helps out dad on the round but has greater ambitions. As the play opens, she is a ju-jitsu brown belt and aspires to the nirvana of the black one. This, she believes, will allow her to enable and empower the threatened women of the neighbourhood. However, an unfortunate encounter with a patronising examiner leaves the arguably "feisty" youngster at a dead end like the rest of the family.
She gets support from an aspiring boyfriend and the writer's finest creation Pete, a young plumber played with wonderful nervous wit by Andy Rush. This talented newcomer somehow always sounds convincing and generates much sympathy for a lad who is completely unable to finish a sentence and has the downtrodden character of a beaten mongrel.
One hopes that The Kitchen Sink is not drawn from life, as this family certainly goes through tough times. Somehow though Wells, like another playwright who hails from Hull, Richard Bean, manages to lighten the atmosphere with some tremendous one-liners, which is where his greatest talent seems to lie.
He also creates one extremely funny situation when calm Kath finally boils over and is cooled down by the titular plumbing, which had been symbolising the family's fortunes throughout the 2¼ hours.
Reviewer: Philip Fisher