Knives in Hens
David Harrower
Donmar Warehouse
–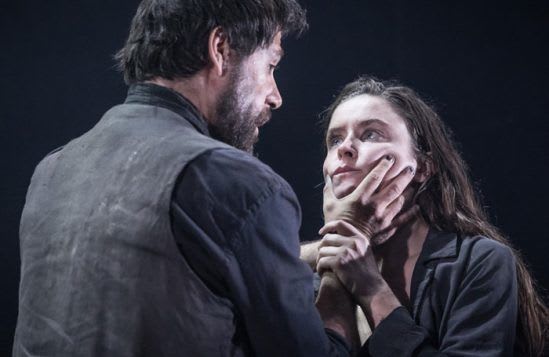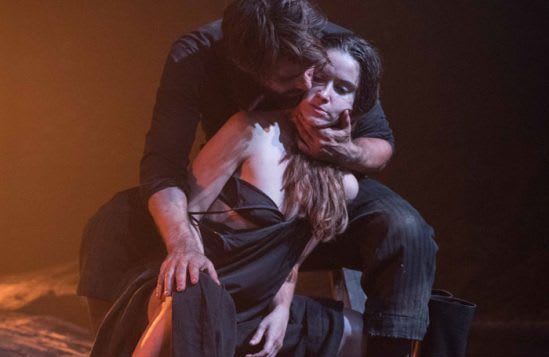 South African director Yaël Farber's strength lies in portraying innately strong, intelligent women in elemental relationships with bludgeoning men.
Following Mies Julie and Salome comes the central figure in David Harrower's earthy drama, set 500 or more years ago in a patriarchal society ruled by rumour and superstition. The place of a wife is cruelly symbolised in that the character played by Judith Roddy does not even have a name, being referred to in the programme as no more than Young Woman.
Soutra Gilmour has created a barely lit setting comprising a floor of soil with a small pool, little more than a puddle. However, almost hidden upstage is the village mill's massive wheel, which overshadows and will eventually play a significant role in proceedings.
Knives in Hens debuted at the Traverse 22 years ago, reappearing re-cast two years later at the same theatre as part of the Edinburgh Fringe. Those who saw either production all those years ago may be surprised to see and hear that a play so firmly set in David Harrower's native Scotland has now been relocated to D H Lawrence country or possibly a little further north.
In addition to the patois, none will have forgotten the performance of Pauline Knowles as a determined woman who, even while mutely putting up with bullying from her strong, ploughman husband played by Christian Cooke, knows what she wants.
Unkindly known as Pony William, due to alleged sexual proclivities that have become the talk of the village, her husband is a hard taskmaster but loves and provides for Young Woman, treating her as a valuable chattel (like his horses) in a manner that would have been common at the time.
He expects obedience and quickly questions her failure to observe the standard practice for any wife of accepting life as it comes. Instead, she takes time to think, a sin against God in William's eyes.
The catalyst for a drama that takes on mythic qualities is the need to take grain to Matt Ryan's widowed Gilbert the miller. As William is tending to his beloved mare, he sends the little lady along, complete with instructions for insults to ward off the perceived threat from the village's pariah.
However, Gilbert subverts her with a pen that is truly mightier than the sword, changing the lives of all three irrevocably.
Knives in Hens is a dark, quiet play with hidden depths and the power to be truly shocking. It gets to the heart of primal human urges in an insidious way and deserves this intriguing 90-minute revival, which Miss Farber ensures is faithful to the spirit, if not the geography, of the original.
Reviewer: Philip Fisher