Kontakthof - A Piece by Pina Bausch
Director and choreographer Pina Bausch
Tanztheater Wuppertal Pina Bausch
Sadler's Wells
–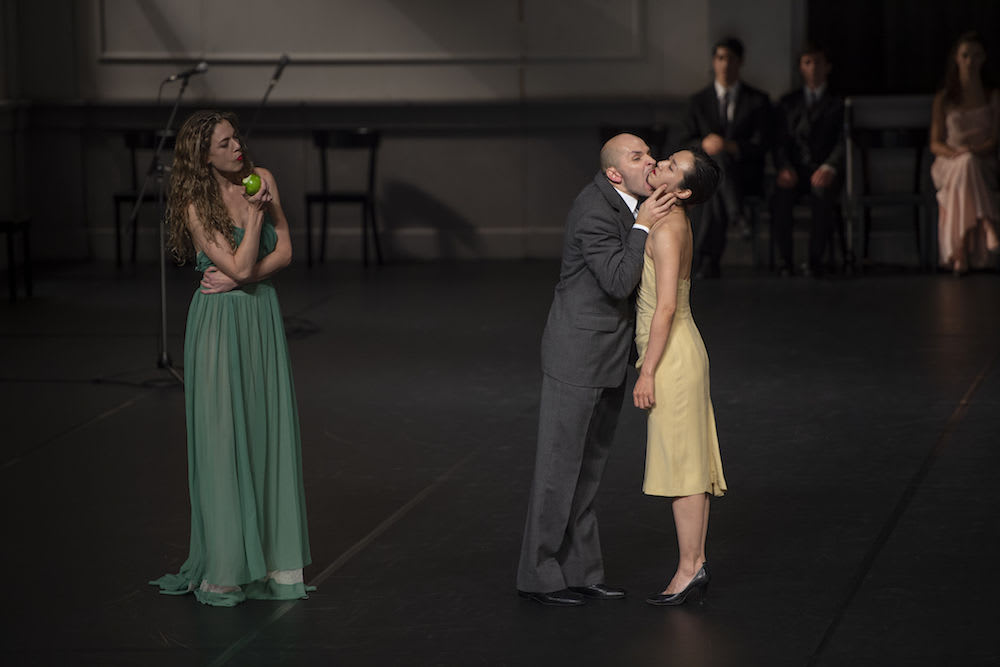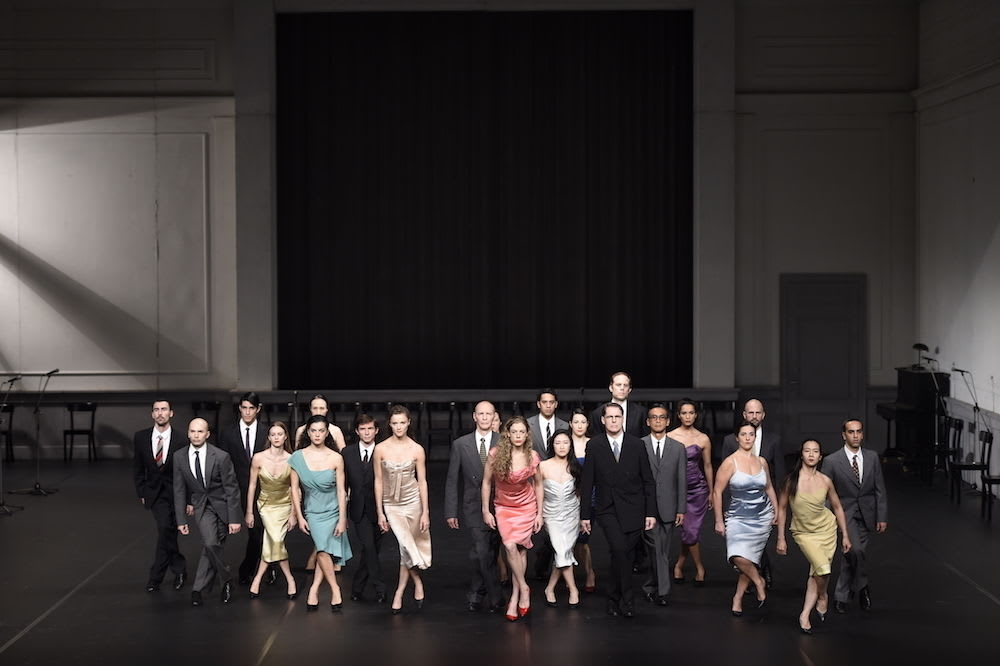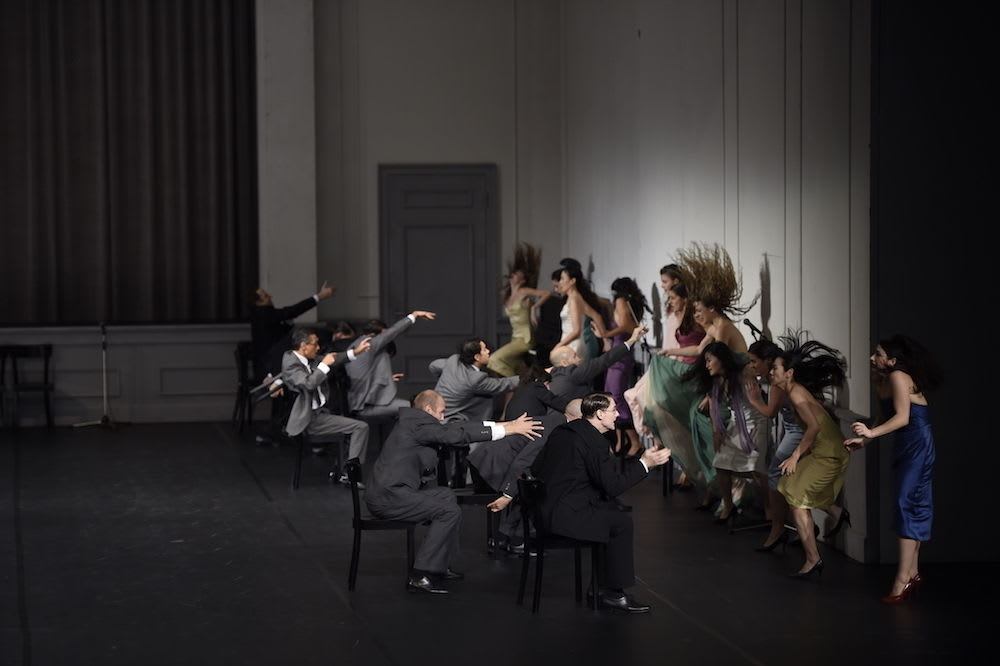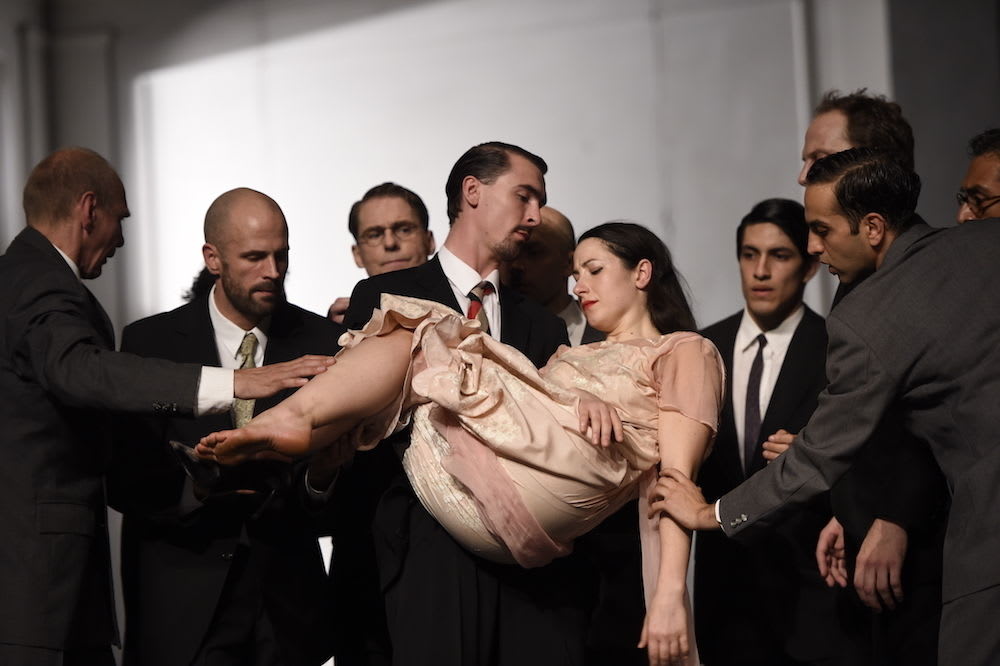 Pina Bausch (1940–2009) and her Tanztheater have a huge following: this short run of her 1978 Kontakthof sold out quickly, so I am surprised to see some empty seats (this is not press night) and even more after the interval. Granted the first ninety-minute half is relatively long, but this is Pina—at three hours in total, it is not the longest piece in her canon. One comes to worship at her shrine (I've covered at least nineteen productions).
Made in the same year as her Café Müller, Kontakthof similarly takes us back to those pre- and post-Second World War years she, supreme observer of people, witnessed as a child and the sweet yearning she heard in the popular songs of the thirties and forties. The Frühling und Sonnenschein song, a dreamy waltz from the 1937 film Die Stimme des Herzens, is a refrain that recurs throughout, together with similar German songs whose melodies linger long. Pina's music choices are always beguiling.
Tangos and waltzes, courtship shuffles, repeated, stuck in a groove: Pina is renowned for her repetition (einmal ist keinmal—once is never enough). On and on the whirligig of life goes, in her trademark walks, diagonal and circular, of young ladies in silk gowns and stiletto shoes on parade in the relentless human comedy. Whilst men, dressed correctly in suits, ogle and prod and paw over their bodies not quite so correctly. The veneer of social encounter is very thin (Buñuel showed us that, too). This is what she unpicks in collaboration with her performers, here eleven men and eleven women—equality in number if nothing else. An international cast, who speak in their own languages at us.
What irritating slapstick pranks they get up to in a municipal town hall ballroom used for social contact—a battle of the sexes more like—a jousting courtyard rather than a meeting place. Empty but for chairs arranged around the room, an upright piano (which will be played tentatively—yes that song again), a few microphones (used for stream of consciousness and screaming into), and a curtained-off stage, which will be used for a surprise film show. Pina's works, her outré metaphors and chaotic mash-up of clichés and random incidents (a woman chomps on an apple; a man feasts on a girl's chin), take some unpicking.
But I miss her old crowd, the familiar faces and personalities. Moves can be passed on, can be coached, but personalities are not the same—it feels a bit ersatz, which is not to diminish the present cohort. I spot four veterans who worked directly with Pina, and it's good to see them. They bring a requisite nostalgia to the piece. In 2000, she had Kontakthof performed by the over-65s—amateurs I believe—and in 2008 with teenagers 14 and over.
Apart from energy I can't see what would be different, for tonight the dancers shed their age and behave like horny teenagers and naughty children, a mature man (Andrey Berezin) chasing a young shrieking woman (Ekaterina Shushakova I think) with a dead mouse. By the end of the evening, she is totally impervious to it—that's conditioning for you.
And if the stripping and poking and posturing and hysteria (to the boogie) and attention-seeking fainting is not enough to reveal the needy animal inside, we get an excerpt from Theo Kubiak's nature film—called Lebensraum in Gefahr (Habitat in Danger)—do I hear voiceover translation by One Foot in the Grave's Richard Wilson? Layer on layer of potential meaning—the film is about mating ducks, though for me Lebensraum has other connotations with the period the music evokes.
Especially when one knows that thirties bandleader and that Sonnenschein song's songwriter Juan Llosas, known as the tango king, was a Nazi and a follower of Franco. We watch the company watching the film—sitting with their backs to us. And then they run across the stage like ducks—women in bare feet. On and on they go—there must have had to sprint backstage to keep that line going.
Julie Shanahan, former dancer and now one of the revival rehearsal directors, interviewed for the programme notes, said Pina wanted them "to show yourself, to deny yourself"; show "part of yourself, to overcome oneself". Fixed in a definite time (nylon stockings as currency), Kontakthof is timeless, because our need for human contact, for love, is eternal. One could say it's the perfect theatre piece for post-lockdown.
But contact doesn't go smoothly, savages and hypocrites that we are. Amusing, witty, irreverent, silly and challenging, Kontakthof is a madhouse, and a game of dare and psychological strip poker. Women change dresses all the time, from colourful silk to diaphanous pink to black, depending on occasion I guess, but the men stay in their anonymous attire, even when they group grope a passive young girl as if she were a blow-up doll (there is one in the show in case we miss the connection).
Another girl rides a fairground mechanical horse—she has to beg coins to set it in motion from a man in the front row—coins no doubt planted, it's an antique model. The audience loves that, as she comes back for more erotic riding. Fairground, merry-go-round, circus, masquerade, that's what this is, we are wind-up toys. But the music is persuasive, seductive, as are Pina's dancers caught in its trap. Aren't we the dreamers—so easy to condition—Pina gives us a slap in the face—plenty of those in the show.
Reviewer: Vera Liber