Koos Sas : Last Bushman of Montagu
David Kramer
Tricycle Theatre, Kilburn
(2009)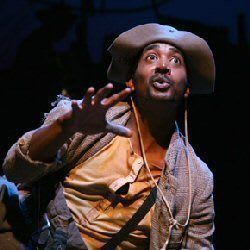 Koos Sas is one of those plays whose utter simplicity is almost certainly totally deceptive. To make something look this easy takes tremendous effort that deserves to be appreciated.
Koos Sas is a kind of South African Ned Kelly, a slippery outlaw who retains a kind of legendary quality that almost becomes superhuman, as he repeatedly and cheerfully evades Constable Tonie Swanepoel, the not very long arm of the law.
The relationship between the two is close, as eventually the bushman whose crimes extend to little more than sheep stealing, practically gets his own personal police officer.
The story written and directed by David Kramer, best known in this country for Kat and the Kings (which he wrote with the late Taliep Petersen), is told in a mixture of reportage, song and dance. More than anything, it is steeped in the veldt where it is set, simply portrayed on stage by designer Illka Louw, who starts the evening intriguingly by focusing attention on a subtly lit skull in a museum case. It is inevitable that before the end, this will play a significant role.
From that opening, an ensemble cast of five unveil a story based on historical fact about the kind of person that Dickens described as "a noble savage", who lived and died just under a century ago.
The hero, played by that great showman, Kramer regular Loukmaan Adams, is a cheerful native who reputedly was descended from an eland and could outrun a horse. He is a criminal of the pettiest kind but, in view of his colour, is hotly pursued for years like the White man's murderer that he is subsequently mistaken for by Robert Koen's not very bright policeman.
The bushman's downfall is in part due to his love for Lenie (Natalie Cervati). This is sweetly innocent and engendered through the efforts of a go-between, her simple ("not the full sack of potatoes") brother Skilpad, played by another of this writer's favourites, Jody Abrahams.
The simplest of stories is told with affection and humour, gaining added complexity thanks to the efforts of a photographer with a shady background (Nicholas Ellenbogen as Scotty Lennox) and a white supremacist Dominee (Koen again). In an effort to provide enough material to demonstrate that native Bushmen are congenitally inferior, they turn themselves into the new Burke and Hare, both helped and hindered by Skilpad.
The pleasure in this production owes a fair amount to a story told in Afrikaans with English surtitles but far more to the immaculate presentation. The acting, led by Adams, is strong and supported by 21 folk songs, each of which is woven into the legend and guarantees constant plot development.
With lithe dance, inventive props - including a barbed wire horse - and nice touches of physical theatre to complement a well told tale, Koos Sas will not disappoint anybody who makes the trip to Kilburn during this short London run.
Playing until 1 August
Reviewer: Philip Fisher