Krapp's Last Tape
Samuel Beckett
Gate Theatre, Dublin, production
Duchess Theatre
(2010)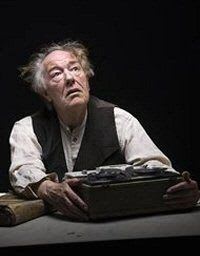 Krapp's Last Tape is almost literally a timeless play. In fact, a couple of generations earlier had the title not already been used, it might have been called Diary of a Nobody and today Beckett would undoubtedly have written Krapp's Last Tweet.
The play, first seen just over 50 years ago at the Royal Court during a prolific period for the writer as it followed hard on the heels of Waiting for Godot and Endgame, features Beckett at his existential best, picking over the bones of a nonentity's life.
The work is generally recognised as an actor's dream play, a fascinating solo 50 minutes in which to do nothing slowly but beautifully, every movement intricately observed by a devoted audience.
Last time around, Upstairs at the Royal Court, Ian Rickson directed Harold Pinter in his desperately moving final stage performance, which was of the very highest quality.
Now, in a transfer from the Gate Theatre in Dublin, the theatre's Artistic Director Michael Colgan has worked with Sir Michael Gambon, something of a Beckett specialist, to create theatrical magic in a performance that starts with five minutes of slow but at times very funny slapstick.
This ends as we observe the cranky septuagenarian's frustrated attempts to commune with technology and, by extension, life's little trials, still in those primitive days represented by a reel to reel tape recorder complete with Bakelite microphone.
In jerky sections, we travel back three decades to a period when Krapp was in his prime but in turn looking back a further dozen years to what might have been a lecherous peak. As the recordings play, there is an opportunity to witness a great actor at work, reliving and reacting to his character's own younger self.
In this way, the minimal pleasures of an everyman can be witnessed in all of their not very glorious glory. It is only right at the end that Krapp begins to record his final message to posterity.
Bearing in mind who has written the script, posterity, although perhaps not an audience hanging on the actor's every word, is not left with much to work with.
In whiteface and shabby clothes that could almost belong to a ghost, Sir Michael Gambon makes the most of a play that gives a reasonable amount of latitude to the director and actor in a concentrated performance during which not a breath or a move is out of place. His portrayal of loneliness in the raw will live in the memory for some considerable time.
Playing until 20 November
Visit our sponsor 1st 4 London Theatre to book tickets for Krapp's Last Tape
Reviewer: Philip Fisher