La Bohème (Abanxaxchi)
Giacomo Puccini Translation and words by Peter Cann with Isango Ensemble
Isango Ensemble
Hackney Empire
–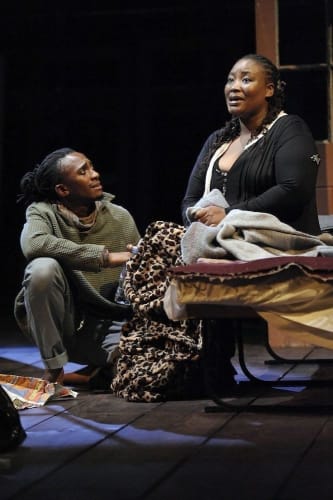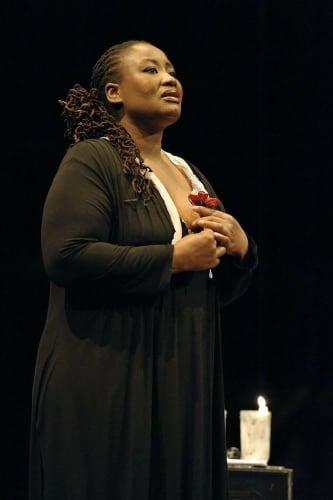 This is Puccini rearranged for Isango's marimba players and percussion with human voices replacing some parts of the orchestra. For the most part that works well, although at some parts where the orchestration uses a strong chorus of voices this can tend to blend with the vocal line of the singers, and what is often relatively light scoring gives the singers a prominence that allows them considerable subtlety.
The production moves the setting from nineteenth century bohemian Paris to a contemporary South African township and opens this tragic love story on a day of great significance in South Africa: Youth Day, a public holiday that remembers the 1953 massacre of Soweto schoolchildren protesting against the Bantu education system, a turning point in the fight against apartheid. It is a society all too familiar with TB, the disease that kills heroine Mimi, as common still as it once was in Europe.
The plot remains basically the same and the vocal lines unaltered and it is sung with great feeling. The singers give a joyousness to this group of young writers and their romances that can't help but win you over, however irresponsible their behaviour. It puts in stark contrast their problems and painful realities.
Designer Dan Watkins provides a collection of window-like panels that can be rearranged to form different settings, with coloured lights lowered in for the bar scene. Their rearrangement is effected with a dance number integrated into the sequence that maintains the energy of the performance. This is a production that runs on smoothly.
Isango is full of good voices that are shown off as much in the quieter passages as when full throated. They hold the audience in hushed concentration. As Lungelo (aka Rudolpho) and Mimi, Mhlekazi 'Whawha' Mosiea and Pauline Malefane are particularly touching in their third act duet and, though she may not look physically wasted, this is a Mimi who is convincingly ill in her death scene.
There were times when surtitles might have been useful, but Mark Dornford-May's direction keeps the well-known storyline clear and draws sensitive performances from his cast.
I saw an evening performance that had been preceded by morning and afternoon presentations of the other Aesop's Fables and the Ragged Trousered Philanthropists, the two other shows playing in repertoire in this season, but it says much for the company that they showed no sign of tiredness despite that.
This production of La Bohème is presented by Hackney Empire together with The Global Foundation to fight AIDS, Tuberculosis and Malaria in partnership with the Isango Ensemble. They are inviting donations to a special fund to support the work of Violet Nsthona (mother of one of the newer members of the company) and the Sinothando Educare Safety Home which she runs in Khayelitsha, Cape town to care for abandoned and abused children, many suffering from AIDS, TB and other serious illnesses. Donations may be made at www.hackneyempire.co.uk/educationisthepower
Reviewer: Howard Loxton